A few weeks ago, we celebrated the 25th anniversary of Lex Luger beating Hulk Hogan on Monday Nitro. A HUGE moment during the Monday Night Wars, Luger forcing Hogan to submit is still talked about by fans today. Many forget that six days later Hogan beat Luger, with heavy nWo interference. A decision to pop a rating for a three-hour Nitro now lives in wrestling lore for decades after. The only thing, Luger winning didn't advance the story. Hogan lost the title, even though he had heavy nWo interference; but he was able to win the title with heavy nWo interference. So why does mentioning a great moment then seems pointless in retrospect?
As a history major in college, it is one thing to read history, it is another to learn from it. In my opinion, Triple H had the best opportunity to not just repeat what Eric Bischoff did 25 years ago, he had a chance to make it better. You see, had Drew McIntyre won today, it would be a huge moment that would live in wrestling history. For decades, Drew ending the two-year reign of Roman Reigns would live in video packages and replays. The crowd singing would have been a moment that lived in wrestling for eternity. But it would have just been a moment, long term, it wouldn't have added to the story, or could it?
The Perfect Storm

For weeks, the WWE has been hinting at some tension in the Bloodline. Sami Zayn comes in, Jey Uso is harsh on Sami, Jimmy still being happy, and Roman manipulates the situation. If this story goes as people think it will, it should end with Sami and Kevin Owens beating the Usos for the tag team titles. This is the main Bloodline story right now. Currently, Roman Reigns has been so dominant, that it is becoming uninteresting. But there is a way to change that.
Fast Forward, it is WrestleMania, Cody Rhodes has returned and won the Royal Rumble. He is scheduled to battle Roman Reigns for the Undisputed title. The story of Cody Rhodes finally winning the WWE Undisputed title, especially coming off an injury, is a good enough story on its own. Roman being that dominant champion that Cody has to overcome is a great story. It was Seth Rollins that put Cody on the shelf, to begin with, now he has to beat the other SHIELD member. This is the place WWE needs to get to. But let's face it, this is months away, and Roman has been getting stale now.
Give this man all the world titles WWE has to offer when he comes back!
When Lex Luger beat Hollywood Hogan in 1997, it was more than a moment, it offered hope. You see, the nWo had been so dominating, that the fans needed hope. Yes, wrestling is based on building heat. But sometimes you build so much heat that you need to cool it off at times. In 1997, fans needed to cool off the heat. Today I am sensing the Bloodline is getting very close to that nWo level in 1997. Lugar's win didn't take away from Sting's win (Nick Patrick did that), and Lugar's and Sting's win didn't take away from Goldberg's win. Sometimes, it's okay to cool the angle down.
The first major mistake in Triple H's regime is having Roman beat Drew at Clash at the Castle. You see, the story was so ripped for Drew to win. Not just because it was in the United Kingdom, but because the Bloodline story was perfect. You had the Wiseman out with an injury, you had the Usos barred from the country, and you had Sami Zayn setting up his face turn soon. It was perfect. Roman, on an island, all alone. You don't even need to have Roman lose clear. With Tyson Fury there, you could have had Roman try to cheat, Fury knocks out Roman, Drew throws Roman into the ring, and when Roman tries to get up, Claymore, and a new champion. Cardiff, Wales would have exploded!
How Hunter Could Have Made It Better
On NXT, Solo Sikoa's story is simple, he's the one the Anoa'i family gave up on. He's the forgotten member of the family. With the next WWE Pay Per View (PPV, I am old school), in Philadelphia, it's very simple. Once Roman loses the title, the next NXT, you show Solo received a letter. The letter is addressed to Philadelphia. On Smackdown, Roman is taking time off. You say he's training for his contractually obligated rematch. The Usos continue their story with Sami and Kevin Owen. As people are paying attention to that storyline, you keep Roman under the radar. On NXT, you don't see Solo either.

To get to this point, WWE could have put a little effort into it
I would have the Usos turn on Sami soon, with KO saving Sami. Then at Extreme Rules, Sami and KO beat the Usos. The announcers stress this is the first time the Bloodline has held no titles in over 700 days. This sets the stage which you doubt Roman is retaining. Heck, with rumors of a Roman leave of absence, this is perfect. People will think Roman could lose. So during the match, it looks like Roman is losing, and the Usos come out only to be cut off by Sami and KO. Then you hear the ECW theme, IN PHILLY. Out comes the Wiseman, Paul Heyman. Drew is distracted. With the ref not looking, Solo Sikoa comes out and nails Drew with a weapon. This allows Roman a chance to hit the spear, and win back the Undisputed Universal Championship.
You can book Bloodline to be strong for the next five months. This all leads to Cody's comeback at WrestleMania. Everyone had to deal with Roman and the Usos. Now Cody has to deal with Roman, the Usos, and Solo Sikoa. You can explain later the Wiseman calling Solo to Philly to smooth over the family relations. Heck, I don't think it needs to be for the title, but eventually having this Bloodline go against the Rock. Oh, the possibilities are endless. With or without the title. There is still time, though it would have been perfect to have Drew win in the UK, and Heyman returns in Philly.
What Do You Guys Want to Talk About?
Let's keep it real, we all want to talk about it. The thing. It's amazing, Triple H makes his first big blunder, and at the end of the weekend, all anyone can talk about is how Tony Khan looks weak as a leader. Well, I'm here to pile on. And I hate myself for this.
Yes! Always want a healthy Wrestling business! Me places make money, more wrestlers make money!

If you ain't in this rap game, for the motherfuckin cash mayne
Then what is your motherfuckin purpose? None can serve us

— 🇺🇸🇺🇸🇲🇽🇲🇽 (@LOP_LWO) September 4, 2022
This is my response to AEW making $100 Million. I want them to succeed. I am rooting for them. Yes, I might be a traditional wrestling fan, I watch WWE, I watch CMLL, and I watch things that make sense to me. But that doesn't mean I don't watch AEW occasionally, or AAA. The more places are in business, the more places wrestlers have to work. The more money they make, the more money the wrestlers make. It's very simple. I want a healthy wrestling industry. I want the wrestlers to make as much money as possible. So to hear what happened this week is heartbreaking.
Something is Very Wrong Here

When CM Punk spoke this weekend in the Media Scrum. he did so with Tony Khan next to him. This is very important. You see, CM Punk aired a lot of grievances during the Scrum. I don't disagree with them. The Elite seem to abuse their powers as Executive Vice Presidents (EVP's). The most glaring issue to me is FTR being left out of the video game. Video games historically are huge money makers for the talent, and to exclude talent is to cut a source of money. That's an abuse of power.
So rumors of heat between the Elite's camp (Kenny Omega, the Young Bucks, Adam Page) and CM Punk and FTR are believable to me. But, I had a hard time believing everything I heard this weekend. I think what made the 1990s and the stories of the Kliq so unique is we couldn't believe that those stories could happen again. How can a group of wrestlers have that much power? Yet here we are, with a group of wrestlers promoted to EVP's. Tony Khan seems like a nice man and idealist who was able to talk Martha Hart into trusting him with Owen Hart's likeness. I truly feel as if Tony Khan wants to be in this business. But he is way in over his head.
Where is the Leadership?
A part of Punk's interview which concerned me was when CM Punk kept cutting off Tony Khan. I cannot, for the life of me, image any promoter allowing talent to cut them off. From Bill Watts, to Verne Gagne, to Mike and Gene LeBell, to Vince McMahon, to even Eric Bischoff. All of these individuals had massive egos and they knew how to control the room. A talent that they paid would not cut them off. On top of that, Tony Khan was apologizing for his inactions that disrespected Punk. This would be unheard of. Tony Khan is the owner, he needs to take control of this situation. In no way should a talent say, "I'm trying to run a business here," in front of the owner!
For months, the AEW locker room has been a leaky mess. Leaks are everywhere, rumors of unhappy talent have been brewing for a while, and fighting for the influence of Tony Khan seems to be every week. Leaving FTR from the video game showed me that the heat between camps is very real. Now I did think that CM Punk was playing off the heat and his interview was a work. For one very simple reason, I could not imagine an owner sitting there and letting his talent destroy his business partners verbally like that. Eric Bischoff said it best.
Bischoff:
"He [Tony Khan]'s paying that cat lots of money. He's paying CM Punk a fortune and CM Punk is cutting his balls off, not only in front of everybody else in the roster, the executive team, the production team, oh, by the way, his business partners, you know, like Warner Discovery, potential advertisers, potential sponsors, maybe even if need be, a potential network to sell their show to should something go wrong with the Warner Discovery merger. For what reason?"
"If there was money in it, if it was part of a story, and everybody I just mentioned including TV partners are on board and understand what you're doing, have had it man. It could work. I'll be your biggest fan. I'll support taking a risk like that because you have to take big risks to gain big rewards. You just do. Not all of them work out, but you gotta try, and if that's what they're doing, hats off if everybody's on board, but if Punk is just venting his spleen, spreading the heat around the entire roster, instead of focusing on his opponent which is business, man, I feel bad for Tony."
Tony Needs to Take Control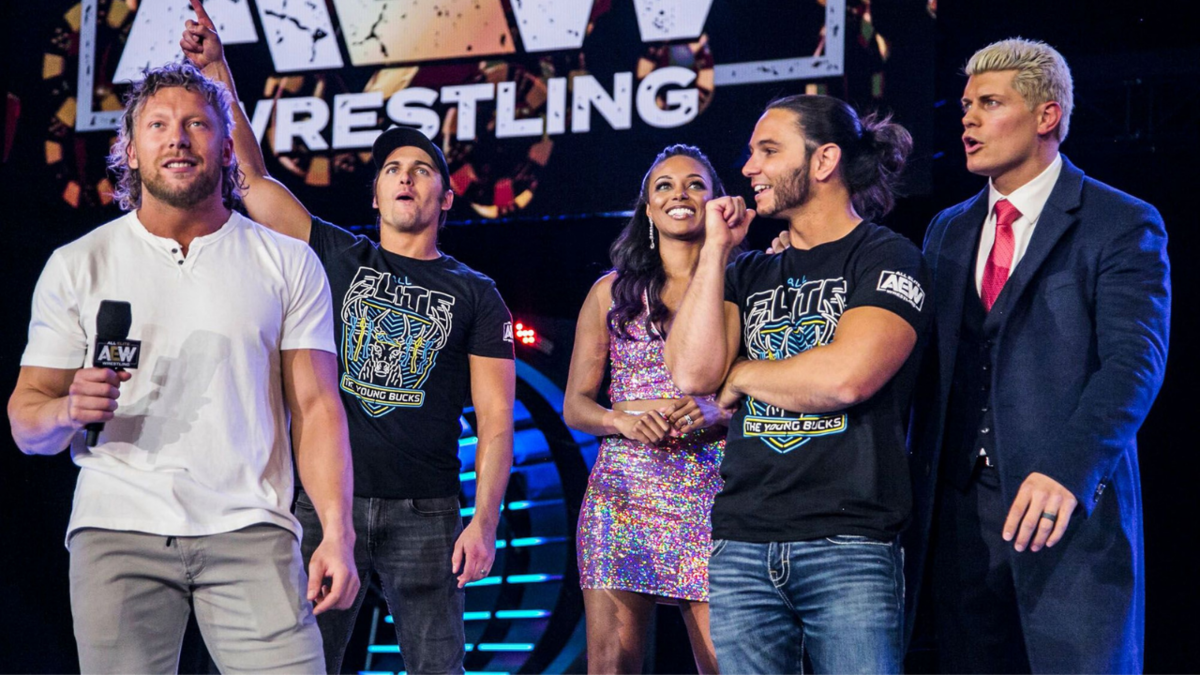 It's not popular to say, but it's time for Tony to control his narrative. In front of his face, he let someone else control the press conference and claim to run his business. I'm not even mad at Punk. This is a reflection of leadership. Punk did get one thing right, Tony has three EVP's who are part of all of this. And those EVP's need to also show leadership. They need to step up and be mature, grown adults.
As a fellow Inland Empire native, I do love it when my fellow 909ers make it. But I'd also be lying if we in Fontana, California didn't hate those rich kids in Rancho Cucamonga. So, personal bias aside, the drama that surrounds the Young Bucks and Kenny Omega has been clear over the last year. First with Cody Rhodes, and later with FTR, I do not believe these are innocent people. Now is Punk a shit-stirrer? Yes, of course. But Punk is talent. He's not in a leadership position. Therefore the leaders of this company need to lead.
Right now Tony needs to strip the EVP's of their title. Also, Tony needs to suspend everyone involved. Everyone from the Young Bucks, Omega, Punk, and even Adam Page all needs to be gone for at least two to three months. This is an all-heel program, no one here is the babyface. From there, Tony needs to hire a true locker leader. I don't know the position, but he needs to put a respected veteran in a role that handles conflicts like this. A role for a Mark Henry, or Paul Wight.
Be Careful What You Ask For
What seems like a dream can quickly become a nightmare. As I've said before, I truly want to see AEW success. With that said, it seems people have been suspended. Good. Take control. With that said, only hire professional executives for executive roles. Get experienced and respected people to lead. Tony needs to create buffers between him and the talent. When someone like Omega can say he wouldn't hire 80% of the talent, this is bad for the locker room.
Sadly, Tony has found out to be careful what you ask for. Wrestling is a cutthroat business. I think the iron fist Vince McMahon has had over the last 20 years created a false idea of wrestling today. When you look at wrestlers complaining in Impact, or Ring of Honor when they go to WWE you hear nothing. Because it took decades, but Vince had WWE under complete control. He was not going to tolerate another Bret Hart and Shawn Michaels situation. I am sure Tony thought the wild locker rooms were a thing of the past.
Wrestling though has always been a business of drama. It seems that Tony had a good business partner with Cody Rhodes. But Tony also sided with the Elite over Cody. Now Cody looks to be set for a huge push when he returns from injury in WWE. The Elite is now the Trios champions, and CM Punk is the AEW champion. All should be right in the world. But wrestlers can't stay out of their own way. Wrestlers have to be in the top spot. Every child dreams of holding the world title, and every child gets jealous when it's someone else's turn. That's what Tony is dealing with.
Even Vince McMahon couldn't control all wrestlers
Someday, there will be a whole new round of Sean Oliver shoot interviews detailing all the drama of AEW. We'll look at the AEW locker room like we do WWF's locker room between 1994 to 1997. The stories these wrestlers will tell will be epic. Until that time, I hope that Tony can get this company together. We need a strong AEW. Yes, suspend people, and strip people of their EVP titles. Have mediated conversations before they come back. Address other locker room dramas like Thunder Rosa, Eddie Kingston, and Sammy Guevara. Take control of your company. You have experienced people in your company that can help right now. Use them.
Hopefully, this will be the moment AEW turns the backstage issues around. Because I've spent a lot of time writing about drama when I should have been writing on the AMAZING job they did reintroducing MJF. Triple H made his biggest booking mistake the same weekend Tony paid off his best booking work-shoot. Yet, all everyone is talking about is a fight. And this is not good for business. My column should be, Triple H's biggest mistake, Tony Khan's biggest win. But bad leadership will always ruin the best ideas. After everyone complained of another Roman win, WWE fans are rallying because their wrestlers aren't fighting.
I feel unusually negative this week, I try to stay away from AEW vs. WWE talks. Though today I felt like I buried both. I am rooting for both and hope both are successful.
Follow me on Twitter at @LOP_LWO