Over the last few years in the LOP Columns Forum, LOP Radio legend Mizfan and Forum mainstay Spinmaster have been periodically working their way through the early years of TNA's weekly PPVs, reviewing the good, the bad and the Vince Russo. We wanted to spotlight the series here on the main page as a snapshot of some of the diverse content you can read in the Columns Forum.
If you have ever wanted to write about wrestling then there is no better place to give it a go. The LOP Columns Forum has a passionate audience waiting to hear from you and it is where we go to find our main page writers here on Wrestling Headlines. You can write about whatever you want in the world of wrestling and you'll be sure to get some great feedback. If you'd like to sign up then you can click the image below. You can also find Mizfan on Twitter @SpectalGent.
MF: Greetings, mizfan fans and Spinnerets! Update, everything still sucks but I'm feeling pretty good at the moment. Time to ruin that.
SM: Life's a bitch, but at least Russo isn't running a wrestling company today. Let's leave this reality and return to an even more painful one.
MF: Maybe the pain will help me feel alive? Probably not, so let's get right to it!
NWA/TNA Weekly PPV
Tennessee State Fairgrounds, Nashville, Tennessee
February 5th, 2003
Spinny's Arch Nemesis in the House
MF: Larry Zbyszko is in the ring to start the show, much to Spinny's chagrin. He has the NWA Championship with him. He says he's going to do something nice for AJ Styles. Larry praises AJ and declares that Jeff Jarrett should give Styles a shot at the title! Jarrett comes out and says this isn't Walt Disney(?). He says if AJ wants a shot he just has to ask for one, and then threatens to take the belt out of Larry's ass. Larry finds this phrasing odd, as do I. Jarrett is going to come beat up Larry but AJ shows up and attacks him. Larry tries to make AJ back off but this allows Jarrett to pop up and beat up everyone in sight, as usual. What the hell, suddenly SEX shows up wearing ski masks and camouflage army outfits. They kidnap Jarrett. That was random as hell, and I'm sure it's about to get worse.
SM: When Zbyszko isn't beating up a young super star he is a whole lot less annoying. However, I'm very confused as to why he wanted to beat respect into AJ for two weeks, and now suddenly he wants to award him a title match. I'm sorry bud, but getting beaten up by your old ass doesn't give him any credibility as a number one contender. Plus, any credibility he had left was gone once Jarrett owned him and Zbysko after being attacked from behind. The only positive thing to come out of this segment is that people now have a blueprint to follow for beating up Jarrett. Wear camo because that seemingly stops him from seeing you and beating you up.
Jorge Estrada vs. Disco Inferno
MF: I think it was Maverick commenting on washed up wrestlers showing up in TNA, and they don't come any more washed up than Glenn Gilberti, AKA Disco Inferno. Disco comes out for the next match immediately, and he's still wearing the camo and mask. It's not meant to disguise him though, because commentary identifies him immediately, leaving me to wonder even more what the fuck was the point of the disguise? Mike Sanders gets on commentary and bitches back and forth with Tenay. Tenay accuses Sanders of being interested in Estrada's "character". The shitty Elivs gimmick? Good god, why?? Also you can just dress some schmuck as Elvis if you really want to??? Disco still sucks, by the way. He weirdly dominates the match and does a lot of shitty dancing as Sanders screams "character development" on commentary. Estrada wins with a backslide to put this stupid match to bed. Disco is as bad as David Flair or worse, there I said it. Disco and Sanders strip Estrada of his Elvis gear after the match. Pretty sure the crowd chants 'you are gay" afterwards, so there's some extra grossness for ya.
SM: Wow, 2003 when the fans were just as bad as Russo. What a bunch of ignorant fucks. Speaking of idiots, we have Disco Inferno who lives the Elvis gimmick daily so maybe he just wants to own the gimmick so that he can be even more of a joke when he comes out next week. Jorge, though he may have some talent, has been saddled with the worst stories and one of the worst gimmicks, in the history of TNA and all of wrestling. As for this match, any talent he did have was wasted and dragged down into the depths of hell by the talentless hack that is Gilberti.
SM Rating: ¼*
MF Rating: ¼*
MF: Goldilocks points out to NWA official Bullet Bob Armstrong that Jarrett has now been legally kidnapped. Bob says he has "a man working on this". Eh, just let him stay kidnapped Bob.
And Now It's Worse
MF: Vince Russo stands in a very poorly light place and, haha, I'm not joking, he has the letters "FU" painted all over his face. He's also wearing army gear. He threatens to kidnap members of the audience who boo them. Russo declares Jeff Jarrett "is in no harm". He declares he loves Jeff Jarrett and this is all for his own good. Disco is also there, once again wearing a ski mask. Russo reminisces about Jarrett's career, including highlighting when he used to hit women on the head with guitars. Russo commands Disco to "develop the character of Jeff Jarrett". He declares Jarrett should be swearing and only thinking of tits and ass. This promotion is a parody of a parody of a parody.
SM: This is the dumbest use of costuming I have ever seen. Why would Gilberti wear a mask, take it off to wrestle, and then put it back on after. Everyone knows who you are now, so why the hell are you putting the mask back on? Then again, why are any of them wearing masks since we know that they are all the members of SEX. Oh wait, maybe they are members of the Dark Order. They wear masks even though most of their names are openly stated on Dynamite and Dark. There we go, mystery solved. This is the origin story for the Dark Order in AEW.
MF: Suddenly Dusty Rhodes walks out and beats up Disco Inferno with ease, which is exactly what should happen. Russo screams Dusty will not rain on his parade, but then he just leaves. I mean good riddance, but weird. Dusty does his best to get the crowd mad about Jarrett being abducted. Dusty says it's bullshit and it's got to stop. Dusty calls Ron Killings, Jerry Lynn, Amazing Red, and AMW to come out. That's a pretty damn good team. Dusty praises all five men and urges them to retake the Asylum. He tells them to take care of things while he's gone. I'll say this for Dusty, he's probably the best promo in the company right now so that's something.
SM: I wonder if we can get a Survivor Series style match with the 5 man team representing TNA? I mean a team that talented should run through anything that SEX has to offer. Then again, knowing Russo, he would book those five against the worst members of SEX and have the SEX team steamroll through them. I do agree with you about Dusty being the best promo in the company, but is that really that impressive? I mean, have you seen the rest of the roster? The only thing I actually got out of this segment is that I would pay to see Dusty beat up Disco over and over again for an entire episode of TNA.
Amazing Red vs. Sonny Siaki, TNA X Division Championship
MF: I am rooting HARD for Amazing Red here. Commentary calls Siaki a "physical specimen" while Red is literally running circles around him. I think Red is literally 100 times better than Siaki. He's up there with the best absolute best in the company, and reminds of Rey Mysterio, which I mean as a huge compliment. Of course, Siaki wins with help from his valet Desire but still, Red did what Jerry Lynn couldn't and got a great match out of Siaki. Maybe Siaki's best match ever? I wouldn't be shocked. After the match Desire shoves Red and Red shoves her back, then Kid Kash and Trinity come out and fight Siaki and Desire again.
SM: When I first started watching TNA in 2004 Amazing Red was one of my top three favorite wrestlers in the company. I was so drawn to him as a performer because he reminded me of Rey Mysterio, so it completely makes sense to me that you would compare him to Rey. I love that the easy choice for best Siaki match is the one he had against Red. The "specimen" has had matches against some great stars of that time and the future, and yet none of them had been able to make his matches exciting. Red did what the rest couldn't and that just exponentially adds to my love and respect for the high flyer. I cannot wait to see him finally get a chance with that title. Please let it be soon.
SM Rating: ****
MF Rating: ****½
Konnan Makes Some Good Points
MF: Mike Tenay sits down with Konnan. Konnan brags about being a huge draw in Mexico, and he's not wrong. Konnan and Tenay agree that WCW didn't use him to his full potential to draw latino fans. Konnan accuses Tenay of changing lucha libre into "X Division". He says all promoters are racist, Bischoff, McMahon, and Jerry Jarrett included. He hasn't been wrong yet. Konnan praises names of the past like Tito Santana and Pedro Morales and says they couldn't gain any power backstage because they are latino. Konnan says Tenay is also a racist because everyone in wrestling is a racist. He says he'll do whatever it takes to make sure they don't get fucked over. It was a little repetitive at times but that was one of the better sit down interviews they've done, I'd say.
SM:I think that was because for the first time in the history of these interviews, the person was telling the truth. His passion for the wrongs committed in wrestling booking of past and present made him compelling and left a lot to think about. I, for one, took this as more of a babyface promo then a heel one. It was hard to find anything that would make me hate the guy. He said he was a draw in Mexico and underutilized in WCW. He stated that Latinos have been unable to gain power in wrestling because of being Latino. These three points seem to be irrefutable. He then said that the promoters are all racist. Can anyone say with confidence that they are not, based on the booking history of the major companies? It is still history making when wrestlers of different races win a world championship. That is a ridiculous thing in 2020. By now it should be common for any person, of any race, to be a champion. The fact that there are so many first times left to happen when there is so much talent out there is insane.
MF: We then go backstage for a promo that seems to suffer from technical issues, a garbled conversation with Road Dogg and his father. I gather Bullet Bob says he has a surprise for Road Dogg in the ring, and Dogg seems excited.
Zach Gowen vs. Road Dogg
MF: Hey, Zach Gowen! His big WWE angle was right around the time I started watching, so I have a soft spot for the guy. He certainly did a lot with a little, at any rate. Gowen does some cool spots and Dogg, to his credit, sells nicely for him. Dogg argues with the referee, who is his brother, and Gowen wins a short match with a small package. After the match Raven attacks Gowen for some reason. Fun story, if I recall Russo wanted to put Gowen in SEX. I've run out of ways to describe how stupid Russo is.
SM: Gowen is going by the name Tenacious Z here and, though it pains me to admit it, I actually kind of love that name. It's feisty which fits the style of wrestling Gowen does. It is easy to see why WWE scooped up the Tenacious one later in the year. He is exciting, inspirational, and damn talented. The fact that he can do what he does with the struggles he has had, really puts things into perspective. Hope to see more of Zach. I love his work in the ring, and have fond memories of his WWE run.
SM Rating: **
MF Rating: *¾
I Walk A Lonely Road…
MF: Raven cuts a promo in the ring and says AJ Styles has something that belongs to him, because he still has the title belt. Raven says he walks a road of horrors that only the bravest men would dare travel. Raven goes on for a bit and AJ comes out, wearing the world title. Raven and AJ start fighting and Raven seems extremely motivated, to his credit. Raven gets the advantage with a low blow and starts snapping AJ's fingers, then Larry Z runs out with a chair and Raven departs, title belt in hand. I actually liked this brawl a lot and I really want to see this match now.
SM: The first brawl in weeks that actually left me wanting to see more between the competitors, except for Zbyszko of course. I find it hilarious that there seems to be a fued building over who gets to steal the championship from Jarrett. Both men want terribly to be the fake champion. If they joined forces and put this much effort into going after the actual champion they might be able to beat Jarrett up for a full minute before he came back and beat them up instead. Might not sound impressive but beating up Jarrett for that long is a feat of strength not seen in TNA yet. Jokes aside, I think Styles vs Raven has the building blocks to be something above average for the promotion, and right now that's all I ask for.
MF: Meanwhile, Goldi tries to get some news from Bullet Bob but he's very rude to her. Some things never change I guess. AMW and the Disciples of the New Church both want to fight Triple X for the tag titles. James Mitchell tells them not to "get their balls twisted in a knot", yeesh. Bob says AMW will get the next shot at whoever wins the AMW/XXX match tonight.
Jerry Lynn vs. Ron Killings vs. Mike Sanders vs. David Flair, Elimination
MF: Jesus, save me from these four together. This match goes on for a bit and it's far from inspiring, as you might expect, and then after a while Jorge Estrada comes out in jeans and does a missile dropkick behind the ref's back on Sanders, allowing Lynn to eliminate him. Ha, they didn't put out David Flair first! David does go out next, courtesy of a small package pin which he messes up so badly I honestly thought it was the other person being pinned. Afterwards David hits Lynn with his dreaded "burlap sack" and Killings gets the win. Commentary questions if Killings is secretly with Russo. Lynn is pissed at Killings after the match. Yeah, this wasn't very good.
SM: Continuing the stupidity of the camo gear storyline, Sanders and Flair are not in their fatigues or masks during the entrance or match. What the hell is the point of the kidnapping and camo angle. This one was doomed from the start with one man who cannot wrestle, one who barely can, one who is a little above average, and only one that is an actual star. There was just no way to pull a great match off here. That being said they could have found a way to do better than what we got here. They could have eliminated the SEX members quickly, forgot about them, and let Lynn vs Killings go uninterrupted for a few minutes before ending cleanly. Couple adjustments and you'd have a possible two and a half star match. Instead we got this barely watchable mess.
SM Rating: *
MF Rating: *¼
How Russo Thinks Women Talk
MF: Goldi reluctantly interviews Low Ki and Elix Skipper. Elix shakily sings "we are family", because they are a family, I guess. Then we get to the real point of the segment, when Sonny Siaki and Desire show up to pester Goldi. Desire does the most awkward, stilted promo about Goldi's breasts looking bad, as the camera zooms in on them stupidly. I assume this is really what Russo thinks women fight about, who has the better boobs.
SM: I'm sure of two things from this promo. The first is that Russo was the man controlling the camera and just wanted to make sure he got a good view of Goldi's boobs for his own collection. He wrote the entire promo just so he could do that one zoom in shot. The second thing I'm sure of is that Skipper should do a collab album with William Shatner. Those two singing together is a platinum record waiting to happen.
Trinity vs. Desire
MF: Trinity is actually good, so of course about 15 seconds into the match Sonny Siaki boots her in the face so Desire can dominate almost 10(!!) minutes of action. Desire is very, very not good. She's incredibly awkward, plus a lot of this is just Siaki beating up Trinity behind the ref's back, and Kid Kash just stands uselessly around. Come on, Kash! Trinity finally recovers, does a couple of cool moves and wins. No more Desire please.
SM: I can't in good conscience give this any stars. The booking was ridiculous and the wrestling by Desire was David Flair levels of terrible. The only smart choice here was having Trinity win the match because she is easily the more talented competitor. I'm going to be very nice with my rating and it is entirely for Trinity's offense.
SM Rating: ¼*
MF Rating: ¾*
Low Ki & Elix Skipper vs. Slash & Brian Lee, NWA Tag Team Championships
MF: Slash dives out of the ring onto Triple X to start the match! This kicks off a pretty wild brawl at ringside with the New Church gaining the advantage. This is actually a great combination of stuff that works, Slash and Lee do their brawling well, Skipper and Low Ki are awesome of course, and it gets kind of brutal, Low Ki's mouth is bloodied and he's just spitting blood at one point. And the crowd is even heavily invested behind the New Church, go figure. They do some big nearfalls which look pretty nice but the finish is marred by a very awkward double pin, where one referee has to pretty blatantly delay his count to get the spot to work. Even worse, they did this exact angle a few months ago. Wow Russo, so creative. I bet you anything we get a tournament starting next week, another weird Russo obsession. Still, finish aside this was really great.
SM: I bet you it is some convoluted double elimination round robin strange bedfellows points based tournament. I hate when the ending of a match drags the overall down so badly. I put a lot more importance on endings then some probably do. I don't care if you have a five star mat classic in the ring. If you end it was an overbooked dusty finish that makes zero sense, then it will blemish the entire match in my mind. You can't take off brilliantly, have a pristine flight, but then crash the landing and expect to get a high rating. That is not how things work for me. That being said, the four men gave their all and put on a barn-burner of a contest. It was intense, athletic, and brutal throughout. I look forward to more matches from them, but instead we are getting the, sure to be horrible, tournament.
SM Rating: ***½
MF Rating: ****¼
A Swerve AND A Clusterfuck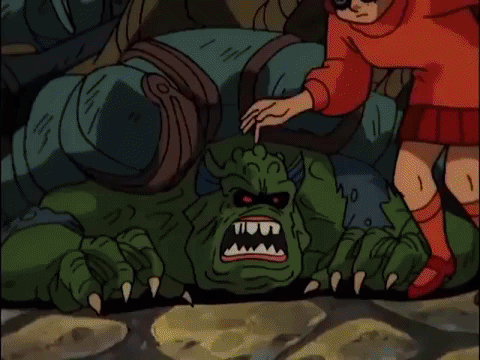 MF: After the match, referee Scott Armstrong declares the tag titles are vacant. AMW comes out to brawl and then SEX shows up in their stupid ski masks, and Russo parades around in an army helmet and yells at people like an idiot. Others from the back come out and everyone brawls everywhere, but they do it kind of slowly. Haha, Don West urges the babyfaces to attack Russo instead of fight the other wrestlers. Amen, Don West. Trinity comes out and Russo BOLTS into the ring to attack her, but Kid Kash actually CLOBBERS him before he can, god bless you Kash. Bullet Bob even comes out and starts punching one of the masked goons, possibly Road Dogg. Raven shows up with the NWA title, not wearing a stupid costume. He avoids the fight and just poses in the ring. Ugh, Russo gets on the mic as everyone finally clears out. I think somehow they threw the whole roster into the SEX locker room and locked them in. Russo calls the fans jack-offs and does a terrible version of Scott Hall's famous "you want a war" line. Russo demands that a masked Disco Inferno give an update on Jarrett. In the most predictable outcome ever, Disco Inferno shows up on the stage without his ski mask, and Jarrett takes off his mask to beat up everyone as the show ends. So wait, Jarrett was under them mask helping SEX beat up the NWA for that entire 10 minute brawl? He didn't bother to help when it actually mattered, all just so he could have this stupid reveal? Wow, Jarrett's a dick.
SM: Jarrett is such a natural heel that he can't even manage to do a big babyface shock arrival without finding a way to get some hits in on the good guys. TNA, do what needs to be done and book Jarrett as the smarmy heel he is meant to be. Everything that made the Raven and Styles brawl great, was absent from this ten minute suck fest. The only good points of this were Kash blasting Russo and, god help me, Don West's statements on commentary. I'm left with only one thought in my mind. The whole camo angle was seriously done just so Jarrett could "shockingly" appear at the end of the night. What type of bullshit booking choice is that?
MF: Seriously though, what kind of idiotic, Russoriffic mind books a show backwards around the idea of "what if everyone wore masks for no reason and then at the end one masked guy is actually another guy"? There aren't words in the English language to describe how dumb this is.
SM: This whole rewatch is doing some terrible things to my brain. I'm beginning to like Don West and dislike Jarrett's TNA run, at least his early face run.
MF: I guess I should count myself lucky that there were at least a couple good matches on the episode, not to mention a Dusty Rhodes promo. I'm looking forward to his AJ Styles/Raven thing, though Russo will probably find a way to ruin it. Oh well, I'm sure we'll find out soon! Until then, say goodbye to the people Spinny!
SM: Goodbye people! Until next time, keep spinning through life and remember to never rewatch something from your childhood, unless you want it ruined forever.
You can read the rest of the series in the LOP Columns Forum, available in the forum section of Wrestling Headlines.