G'day Lords of Pain, welcome back to YES Relived, the weekly series where we go back to relive one of pro wrestling's greatest ever stories, the rise of Daniel Bryan and The Yes Movement. Starting at Summer Slam 2013 and going through to Wrestlemania 30 I will be rewatching, reviewing and analysing Daniel Bryan's story on a week by week basis with PPVs getting their own column too.
In case you missed it, the highlight last week was undoubtedly the barnstorming six minute symphony of focused fury between Bryan and Seth Rollins on Smackdown (seriously, if you haven't seen it go check the match out now). We also got to see the authoritarian regime of The Authority wielding its power on Raw, forcing The Big Show into a match with Bryan against his will. Bryan's tenacity managed to keep the big man down until The Shield interfered but Bryan still showed enough to prove he is ready for his upcoming title shot against Randy Orton. You can check it out gifs and all here.
This week is the last set of shows before Bryan gets his long awaited rematch against Randy Orton for the WWE Championship that was stolen off him at Summer Slam. On the way to the championship match we get to see two of my favourite wrestlers of all time square off and probably a little more talking than we're used to from Bryan. In 'The Breakdown' we will also ask the question, was Daniel Bryan already 'The Guy' in 2013?
But enough with the intro, let's get stuck into the go home week for Night Of Champions 2013.
The Life Of Bryan
Raw 9/9/13
Raw tonight comes from the Air Canada Center so of course they are going to kick things off with a local wrestling legend. The Authority has spared us no expense to get us the latest WWE superstar to cross over to the world of acting, Edge, who is turning back the hands of time and bringing us The Cutting Edge to kick of the show. It was a program between Edge and Batista on Smackdown in 2008 that initially drew me into watching pro wrestling so seeing him is always a happy reminder for me. In fact if he hadn't been forced to prematurely retire, he would have been amazing in Orton's spot as 'The Face of The Company' in this story, at least equal in the ring but miles better on the mic, La Familia Mk.2 if you will.
After absorbing the cheers for his entrance, Edge doesn't muck around declaring that while The Authority got him here to interview his former tag partner, Randy Orton (not the tag team partner we want to see Edge with). However he has known Randy a long time and knows he has nothing interesting to say so he wants to bring someone else out. The crowd is ready and waiting for this moment and explodes with Yes Chants as Edge brings out Daniel Bryan.
Bryan enters the ring to a huge 'Daniel Bryan' chant, takes the mic and says no matter how many times he gets held down he knows he will beat Orton on the weekend, regain the title and he will be champion. Edge nods in agreement and says he sees a little of himself in Bryan because they both chose wrestling, they didn't come here as a Plan B, it was their dream.
After a little more hyping Bryan it is time for Edge's former tag team partner to make his appearance and Orton's music hits. Orton stays at the top of the ramp and takes the mic and says it is a shame Edge can only go to shows in the one place he is still relevant in… Canada.
Unperturbed by this pretty meek put down, Edge tells Orton that even though he is meant to be the face of the company he is acting like another body part and that he is a puppet of Triple H. The COO must have heard his name backstage because he decides now is the time to make an appearance and he is also met with verbal fire from the Rated R Superstar who says he isn't an employee so he doesn't have to watch his mouth like everyone else.
Edge then bring up how Triple H has a terrible history at picking talent, pointing out that 'H campaigned backstage against himself, Chris Jericho, John Cena and now Daniel Bryan. The crowd explodes at this line and just like Orton, Triple H is struggling to take the heat so calls Edge a failure who just like Daniel Bryan, 'never drew a dime'.  He then says unlike Edge, at least Bryan has a chance to prove him wrong when he faces Dean Ambrose in the main event tonight. (YES! YES! YES!)
The segment ends with Triple H saying while he isn't a dictator, if you insult the things he loves (is he talking about Orton here?) he will hurt you. Triple H motions backstage and The Shield drag out Christian who has been badly beaten up.
Daniel Bryan v Dean Ambrose
No mid show segments ofr Bryan this week so onto the main event. Before tonight's combatants make their way out we get an entry from The Big Show, apparently Triple H has put him in Bryan's corner to counter the two other Shield members but Stephanie has said if Show gets involved he will be fired. JBL and Cole remind everyone of the story between Bryan and Big Show so far as Bryan makes his way to the ring to a thunderous ovation.
As the match begins Bryan takes the same route that worked for him last week against Rollins, unloading fast and furious early, pushing Ambrose to the corner with strikes and kicks. Ambrose pushes back and in a smart move rolls out of the ring to regather after Bryan's initial assault.
The Shield trio convene and as Ambrose motions to climb back in the other two move ominously to the other two sides of the ring, just making sure Bryan knows they are there. After eyeing off Rollins and Reigns Bryan runs straight at Ambrose and once again goes on the offence with snapmares, kicks and knees grounding Ambrose.
The pace of this match has slowed somewhat from the frantic start as Bryan begins to dissect Ambrose on the ground. The Lunatic Fringe's awesome selling is working overtime as Bryan stomps on his elbows and stretches out Dean's shoulder, bending Ambrose in half. All of this transitions into a sick looking surfboard where Bryan goes back to the old American Dragon days, grabbing the nose and gouging Ambrose eyes after Ambrose gets to the ropes.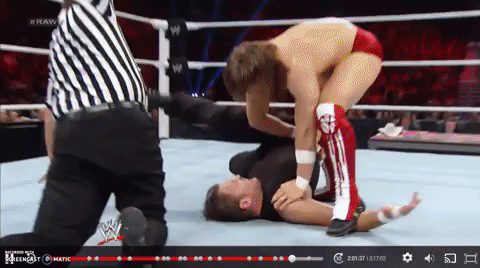 Ambrose is the first up afterwards though, grabs Bryan and starts to inflict some pain back, working him over in the corner and managing to counter Bryan's attempts to escape. As he throws him around Ambrose arrogance begins to reveal itself with him trash talking the former world champ, telling him to, "stay down", bending down and gesturing in his face. On the outside Big Show is cheering Bryan on and leads a "YES" chant which helps pump Bryan up enough to dodge Ambrose next charge and suddenly it is Bryan back on the front foot. A super huricanrana then gets him a 2 count and Bryan is on a roll, catching Dean in a Yes Lock and immediately following up with kicks in the corner.
The match is really stepping up a gear as Bryan manages to again counter a Dean Ambrose comeback, hanging his opponent upside down on the top turnbuckle to deliver a sick dropkick to Ambrose head before lifting him up for a high impact belly to back suplex off the top.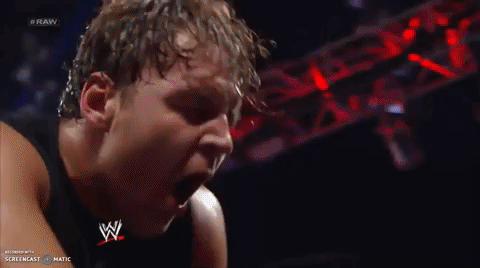 A two count isn't enough to end the match but the sequence does earn a "THIS IS AWESOME!" chant from the hot crowd. Bryan rises up and continues his blunt force assault on Ambrose with more hard kicks, as they get closer to the ropes though Ambrose is able to catch a kick and toss Bryan to the outside. Things now move very quickly, Rollins gets up on the apron to distract the ref, Reigns takes the moment to charge at Bryan for a spear and Rollins comes off the apron with a clothesline. Our hero is alert to the danger, and like last week dodges both outside attempts at him. Bryan isn't so lucky as Amrbose approaches, instead of coming head on for the third attack, as Rollins did last week, Ambrose comes from behind catching Bryan with a vicious clothesline and DDT on the floor.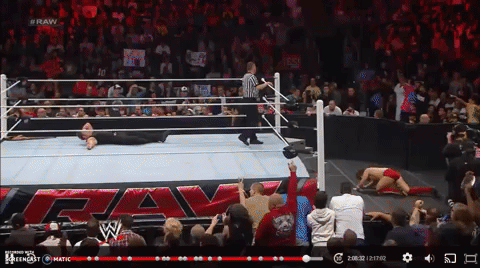 Despite cheers from the crowd Big Show refuses to help as Ambrose rolls Bryan back in and yells at him to stay down. Ambrose starts trash talking again but unfortunately his taunting costs him dearly as Bryan catches him in a perfect roll up to get the 3 count and the win.
Winner: Daniel Bryan by pinfall
Rating: 3.25 YES's out of 5
Another week, another really good match against a Shield member. This one had such a throwback style with a focus on realism and selling and what it lacked in pace it made up for in sheer brutality. Bryan and Ambrose knew exactly when to pick up the pace as the match climaxed and ended well with Ambrose arrogance that had been on display throughout, costing him the match.
As you may have guessed if you've read any of the other columns there is not a whole lot of time for Bryan to celebrate, as predictably Randy Orton's music hits. Today Bryan is ready though and as Orton saunters to the ring a pissed off Bryan runs directly at him, diving through the ropes, and laying out Orton in a moment caught with a really cool camera shot.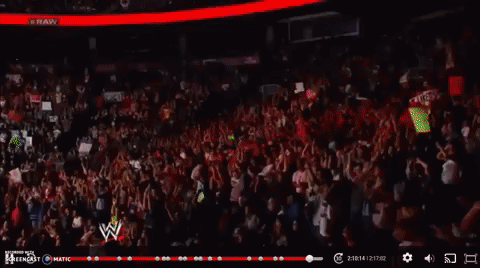 Of course Bryan's beatdown doesn't last long as The Shield come to Orton's aid, turning the tide. A bit of teasing from Big Show follows but he ultimately stands aside as Orton RKO's Bryan.
It is then cue for Triple H to come and throw his weight around as his music hits and he appears with Stephanie at his side. The pair tell Big Show to knock Bryan out for the second week in a row and despite it looking like Show is about to do it, while Orton's back is turned, Bryan rises from the canvas, charges at Orton and hits the face of the company with a knee to a huge cheer.
For the first time in this series we end a show with Bryan raising his arms above his head as the crowd cheers "YES!" and Triple H looks on in dismay.
Smackdown 13/6/2013
It is the go home show for Night of Champions but unfortunately we don't have a whole lot of Daniel Bryan to talk about from this show. In fact we have to wait until the final segment of the night that is right after a fantastic 6 man tag match between The Usos & Dolph Ziggler v The Shield. For the second night this week Edge makes his entrance to host The Cutting Edge with Bryan and Orton. The Ontario crowd is very happy to see the Canadian Hall of Famer but Edge isn't in the best of moods as he takes the mic. He says even though he was invited here by Triple H, the only reason he came was because of the fans. Edge says that Triple H married into a cushy job and he hasn't forgotten what Triple H did to his best friend Christian on Raw.
Edge then brings out "the supposed face of the WWE," Randy Orton, to a predictably hostile reception. A nice touch I just noticed is how Orton cradles his title on the way to the ring, body language has always been one of Orton's most compelling characteristics and this subtle change shows how he is ultimately fearful and knows he needs to protect the Championship he won through false means. The crowd loses it a little as Bryan gets invited to the ring, really getting into some enthusiastic YES chants.
The host for the evening doesn't even pretend to play things down the line, asking Orton questions like, "how does it feel to be a sell out?" and letting Bryan run his mouth at Orton too. I'm going to skip the details of this segment because the back and forth is just the all too predictable lines of Orton saying he is the champion and face of the company and Bryan telling Orton he doesn't care what is best for business and he is going to beat Orton on Sunday night.
If you are watching along with me, you can probably skip this one too. For the record the segments breaks down with Orton attacking Bryan, however Bryan quickly catches Orton in the Yes Lock and the show ends with Orton tapping out multiple times. Sadly we head to Night of Champions with the first real hard pass of the series.
The Breakdown
One of the popular narratives that has been tossed around since his return this year is that Daniel Bryan never got a chance to be 'The Guy' in the WWE. The argument suggests that while Bryan was given the WWE Championship at Wrestlemania 30, his reign that consisted solely of a feud against Kane before being cut short by neck injury was not a true chance for him to show he could be the top guy of the company. Generally this line of thinking is coupled with a claim that Bryan should be given a chance to run with the WWE or Universal Title at the top of the company as he never got a chance to do it when he was hottest in 2013/14.
While I by no means object to a Daniel Bryan title run in the future, given what we have observed these past weeks in YES Relived, I would like to push back on that line of thinking a little. Obviously at this point in his rise Bryan is not currently the WWE Champion and the onscreen authority figures claim Orton is the 'face of the company'. However I would suggest that despite not being champion, since winning and subequently losing the title at Summer Slam, Bryan has clearly been the lead protagonist on all WWE TV.
Statistically speaking, of the 9 shows we have seen, 4 Raws, 4 Smackdowns and Summer Slam, Daniel Bryan has had the main event match or been a major part of the main event segment for every single show. He was also a big part of most of the opening segments, particularly on the 'flagship show' Raw. More subjectively the stories around the rise of The Authority and the oppression of the roster have more often than not orbited around Bryan. The manipulation of The Big Show has been to try and quash Bryan, the firing of Cody Rhodes was because he spoke out about Bryan and the 'town hall meeting' from last week was largely centered around Bryan's predicament.
Conversely while he was Champion and being touted on air as 'the face of the company' Randy Orton's roles in those segments were far more limited. He has wrestled matches mostly in the middle of the shows, still filling storyline roles but not in the spot normally reserved for the true top guy of the company.
What I am trying to get at is that while traditionally wrestling companies would have their main star as the champion, in this particular case, Bryan's position on the card and the focus placed on him in the ongoing story against The Authority, show that he was in fact given that role as 'The Guy' far earlier than Wrestlemania 30, albeit in a slightly unconventional way.
It is obviously still early days in YES Relived but it will be interesting to track exactly how long this unconventional treatment of the 'Top Guy' last for Bryan through the series.
That wraps it up for today though, join me next week as we get to see Bryan's long awaited rematch for the WWE Championship he was screwed out of at Summer Slam.
Thanks for checking out Yes Relived, if you would like to talk some more wrestling feel free to follow me on Twitter @Sir_Samuel or even better you can sign up for the newly restored LOP Forums. It is a great place for the longer conversations that quite frankly cannot be had on Twitter or here in the comments. A great place to start is a recent thread titled, 'Who is the greatest beneficiary of revisionist history?' There are some really in depth responses to a provocative question.