This week, The Doc is pretty excited about the state of pro wrestling, coming off a highly memorable several days of WWE, NJPW, and NXT shows. In reflection, he counts down the Top 10 matches and moments from the extended weekend.
Overall impressions from each of the aforementioned shows are given as well, with his opinions on Summerslam and Takeover: Toronto II maybe considered "hot takes." For instance, Doc believes that one of those shows was the best of a certain category since 2015.
Once into the Top 10, you can expect a few surprises. Matches others have lauded, Doc struggled to connect with, leaving popular top level choices for countdowns like these on the outside looking in. That said, the door was then open for him to highlight some matches that many might have left off their respective lists. For instance, an eighth match in the G1 Climax for a legend and an underrated star nearly vaulted Doc's entire field to reach the top spot. Which match was it? Did your favorite make the cut? Which event featured the most matches on Doc's countdown? Tune in and find out!
The Greatest Matches and Rivalries of the WrestleMania Era will be available next week on Audible (as an audiobook)!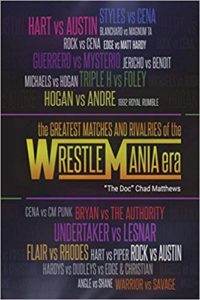 Read reviews of the print version here: https://www.amazon.com/Greatest-Matches-Rivalries-WrestleMania-Era/dp/0692086781#customerReviews