This week, The Doc intends to get you ready for Summerslam and he intends to do it quickly. Few can say more in less time than Doc, so expect no less quality content in this last minute preview.
Any WWE enthusiast struggling to maintain their fandon can appreciate that each major pay-per-view has the potential to be an agent of much-needed change. Seth Rollins regaining the title from Brock Lesnar in a classic performance could be an example of a shift in priorities. Contemporary stars shining brightest on such a stage is always a welcome occurrence. Here's to Kofi Kingston and to talents like Ember Moon and Bayley getting the chance to optimize their match.
Perhaps one could argue that Summerslam '19 holds little of that paradigm-altering potential, but the card at the very least holds some real intrigue in regards to quality. The 2019 WWE (proper) Match of the Year conversation is two deep at the moment, so could Styles vs. Ricochet join the race? Could Rollins-Lesnar? Orton vs. Kofi has that office vs. underdog vibe that frequently lent itself earlier in the decade to awesome matches, so maybe it can too. Stratus vs. Flair is a legitimate dream match. Can they deliver a performance that lives up to that billing?
All we can hope is that Summerslam delivers in a major way. Hopefully, Doc can get you adequately hyped to set the stage!
The Greatest Matches and Rivalries of the WrestleMania Era will be available next week on Audible (as an audiobook)!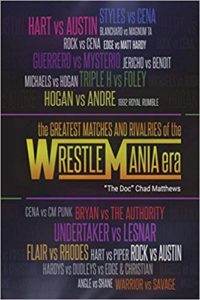 Read reviews of the print version here: https://www.amazon.com/Greatest-Matches-Rivalries-WrestleMania-Era/dp/0692086781#customerReviews