'Sup, Lords of Pain? Here we are, right on the verge of Hell in a Cell and I was expecting a stellar go-home week. Fact is, Raw and SmackDown weren't particularly good and there weren't any big standout performers on the main roster. This gave the network shows a bit of a chance to make a big impression. So let's not hang about, let's dive straight into week 3 and see if 205 Live, NXT and the Mae Young Classic competitors grab this brass ring.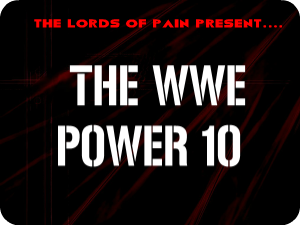 Week Ending 14th September 2018

10. Kevin Owens (Raw)
KO's fantastic match with Seth Rollins and subsequent resignation nabbed him top spot on the first edition of this list. Things looked bright and I was hoping a nice story arc awaited him. That didn't really work out very well did it? Creative failed Owens once again as he found himself back on Raw the next week, playing the role of heel goon #5. What makes it even more dumb was that he was playing back up to the guy he was feuding with about 3 weeks previously. He returned to Raw to attack Bobby Lashley, with reasoning that was a stretch. The thing with Kev is, despite all the ridiculousness going on, he still goes out there and delivers a fantastic performance. We saw the KO we all deserve in his destruction of Tyler Breeze and while his reasoning for his actions of the last few weeks may not have been great, his delivery was. Owens is annoyed and out for revenge. While I hope it results in a move back towards more of his Prizefighter persona, I do worry he just remains as babyface fodder. We are pulling for you though, KO.
9. Mick Foley (The Set of Brookside)
Last week Shawn and Taker shared the final spot on this list for a very good back and forth over something I wasn't particular interested in. It was Mick's time to come out of the retirement home today to do a spot of selling. Celebrating the 20th anniversary of his absolutely insane double bump in the cell against The Deadman, Foley gave a passionate speech about needing to feature at this year's Hell in a Cell PPV. I was honestly expecting his appearance to be more of the "Taker and Hunter are the two deadliest guys who ever lived" schtick but I was pleasantly surprised that it was to announce his role as guest ref for Strowman vs Reigns. When it comes to promo ability, Foley is a serious contender to be the greatest to ever do it. And he proved why here. He delivers so much intensity and believability in everything he says. It always feels like it comes from the heart. Let's just hope he doesn't get excited tomorrow and want to take a cell bump for old times' sake. I believe Jeff Hardy has dibs on cell suicide this year anyway.
8. Nikki Cross (NXT)
Even if I had never seen Nikki Cross wrestle, I'd be sold on her based off a description of "mental Scottish bird". I discussed my love for R-Truth's crazy persona last week but with Cross, there is a difference. Her craziness makes her feel more dangerous. I know a lot of people were disappointed when she didn't come up with her Sanity stablemates but she looks like the real winner in that decision right now. Her main event this week against Bianca Belair (who I am also a fan of and more than held her weight) was chaotic and exciting. The pair seem to have very good chemistry and it's a storyline that looks like it will continue following the double count out. I look forward to seeing where this goes from here and there is the potential for a really good gimmick bout that could put Belair on the map and push Nikki to a big title feud. With Baszler's constant improvements I reckon that pairing could do something very special for the NXT Women's Championship.
7. AJ Styles (SmackDown Live)
AJ Styles is the WWE Champion and IWC Posterboy but this is his first appearance on the list. It's been a strange 2018 and title reign for the Face That Runs The Place. Obviously his biggest strength as a performer is between the ropes once the bell rings. I did enjoy his character work as a heel but as a face, he's just not very interesting. This year he has had two major programs against heels who have been larger than life in Nakamura and Joe. As such, he's not really done a great deal other than be there. His matches in those feuds have had a strong foundation in storytelling which I have generally enjoyed a great deal but have not been to everyone's taste. So despite being at the top of the industry, it's certainly won't be the most fondly remembered run for AJ. It was another week where Joe took centre stage in the feud, however Styles did manage to deliver some intensity (this is my word of the week I reckon) during his empty arena pre-recorded promo. He has every right to be seething with the challenger for his title and he definitely conveyed that in setting up a WWE title match which, once again, is unlikely to close the show at Hell in a Cell. I do hope that with family honour at stake, AJ can deliver a universally praised performance.
6. Becky Lynch (SmackDown Live)
Yay my favourite subject. Another week where Becky gets a good spot on the list without playing a huge role on TV. I loved her attack of Charlotte this week. Whether you see her as the heel or the face in this situation, I think the key thing is that her motivation is totally understandable. I've spent the last couple of weeks discussing this so I won't go over old ground (go check out The Doc's latest column discussing it too) but WWE have something hot on their hands right now and I will be interested to see how they handle it on Sunday. Don't get too upset if she doesn't take that title from Flair though, it may just be stoking those character flames even further. Evolution would probably be the place I'd pull the trigger. But then again, it might be WWE not caring because Charlotte is the Queen they want. But Steph said they listen to their fans, why wouldn't we believe her!!!
5. Kacy Catanzaro (MYCII)
Someone has certainly made an impression on a few of the LOP Columnists. I was one of them. This is my first experience of her. I am not even totally sure what American Ninja Warrior is. It looks like a bit more serious version of Takeshi's Castle from the clips I've seen. Catanzaro however has "STAR" written all over her. I couldn't tell just quite how small she was during her first round bout with Reina Gonzalez but I think it's fair to say she will often be in the role of underdog. With sections of the crowd starting to turn on Johnny Wrestling, she could very quickly take the role as the top underdog babyface in the company. It helps that her style is extremely exciting and that she is absolutely adorable. It's obviously very early days for Kacy but the sky's the limit based on what she has shown. I am already thinking about her taking on a heel Rousey in a big money Mania match a couple of years down the line. Sure, I may be getting a little ahead of myself but all dreams start somewhere.
4. The Dogs of War (Raw)
Dolph Ziggler, Drew McIntyre and Braun Strowman made the first two editions of the list but this is the first time they do it as a trio. They continued their good work in the build towards the red half of Hell in a Cell this week. The new tag team champions once again added a bit more of the missing prestige to the titles. The B-Team's rematch once again saw Dallas and Axel looking like a serious duo rather than just being there for comic relief. Stowman's brawl with Reigns to close the show was a nice final piece to the main event puzzle for Sunday. It was their promo to kick off Raw however that stood out to me. As all the best heels do, they had real motivation for their actions as they talked about standing up to the Shield. Will the group get any joy on Sunday night? I don't think it is particularly likely but full marks to the alliance for delivering in the build.
3. Samoa Joe (SmackDown Live)
Storytime with Samoa Joe is the type of thing that can scar you for life. It's type of segment that is either going to work or be banished to wrestlecrap history for eternity. Joe can do no wrong at the moment when it comes to talking. His delivery is (not going for intense this time) sadistic. It reminds me of Punk and Guerrero at their most evil. He knows exactly how to get under AJ's skin and he makes everyone else watching feel extremely uncomfortable about it. It's the hallmark of a fantastic heel and Joe is just that right now. I've said this before, but I would love him to take home the title on Sunday night. AJ will do just fine for a while without the strap whereas I struggle to see just where the Samoan would fit in should he come up short. I know that the popular choice is for Miz to be the next champion and eventually be knocked off by Bryan, but I'd be a big fan of a Joe vs Bryan autumn title program.
2. Tomasso Ciampa (NXT)
Talking of strong heels, NXT crashes the business end of the P10 this week in the form of their champion. And once again he delivers off the back of a promo and not a match. The growth of Ciampa has to be one of NXT's greatest success stories. He has turned into such a fantastic bad guy during his extended rivalry with Johnny Gargano, but holding that title, he will now have to prove he can get the job done with different babyfaces across the ring from him. His performance this week was a statement that he won't have any problems doing so. Doing his best Shaggy impression, Tomasso pleaded his innocence in the murder of Aleister Black, but in that cocky "putting yourself over" way. I think Ciampa being the mastermind of the attack (even if not the attacker) would be a very good thing for him right now. He also managed to set himself up a nice little match with Otis Dozovic to round off his night which should be a lot of fun. I am very much looking forward to seeing just how much Ciampa can excel in a world where he isn't fighting Johnny Wrestling.
1. The Shield (Raw)
I expected the clapback from the Hounds of Justice on Raw this week and they duly obliged. What we saw this week was essentially everything that made The Shield great in the first place. They wasted no time in taking it to the heel goon squad who had them on the back foot last week. Once they were kicked out, it was time to "architect" a plan to get them back in. They found a loophole and then got the best of Constable Corbin. Seth and Dean got their tag title match for Sunday whereas Roman would be last man standing before the universal title match having taken it to Strowman. If competitive, the matches have the potential to be outstanding at Hell in a Cell and I am very much looking forward to both. They could conceivably leave Hell in a Cell with all the gold on the red brand, which may annoy a lot of people but it could be a great move for Raw going forward. The Shield have always been strong and whoever can knock them off is going to look like a million bucks.
And that is another episode in the bag. Tomasso Ciampa had a great week to get the number two spot on a go-home week and Nikki Cross made it the first week with double NXT representation. The Mae Young Classic made its mark again but for the second week in a row, 205 Live failed to register. I do expect that to change soon though with Itami vs Ali on the horizon which I am really looking forward to. I'd expect the top ten will be a tougher nut to crack next week with Hell in a Cell being a place people can book their spot on the list. I wouldn't expect many people to make it off the back of a single promo. Here's hoping the WWE do a great job with the event as there are quite a few matches I have pretty high hopes for. Should you have any comments about the list, anyone that should have made it, anyone that shouldn't have, please feel free to use the brand spanking new comments section below or to hit me up on the Twitter.
You can also check out the latest episode of The Right Side of the Pond, where Plan and Maverick took ahead to Hell in a Cell with our predictions show.
Until next week, peace!