'Sup, Lords of Pain? Better late than never right? It's been a busy couple of days for me with things I won't bore you with but never fear, the P10 is here to stay. It has not even been a full week since Hell in a Cell yet but it already feels like it was months ago. Another hectic and solid 7 days of programming are in the bag and the big question today is who can claim a spot on this week's list up against some big performances at the PPV. No need to hang around, let's find out in another…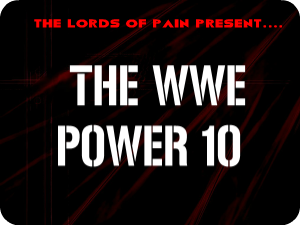 Week Ending 21st September 2018

10. The Screwdriver (Tool Box)
So how this list works is that a bunch of my fellow LoP columnists nominate top 5s for the week. Anyone who gets two or more votes makes the list. The rest of the list is made up of people who got single votes. This week the lists were very similar which meant pretty much everyone who got a nomination hit the top ten. The strangest entry is the screwdriver. I really enjoyed Jeff Hardy and Randy Orton's Hell in a Cell match. I think most people did judging by the reaction online. Neither guy however managed to make anyone's top 5 list. I suspect they would have made multiple lists had we been dealing with 10s instead of 5s but it is what it is. One of this site's columnists however was enamoured with the inanimate object's role in the HIAC opener (it was Maverick, go roast him!). Ear hole poking is a whole new mode of torture in the WWE thanks to Randy Orton and the use of a screwdriver here was disturbing, sadistic and pretty awesome. That said, I do think this is a novelty appearance on the list and I wouldn't expect to see it here again anytime soon. However, with The Viper setting his sights on a new target, never say never.
9. Constable Corbin (Raw)
Quite honestly, I am more comfortable with the screwdriver making the list. We are obviously talking about another entry based on a single columnist's view of the week's events. In all seriousness now, I am a fan of Baron Corbin. I think he has a good role to play in the company and was impressed with his growth until he found himself squashed under the Hustle Loyalty & Respect bulldozer. I think the role of Constable has suited him and helped him get back on track. Never ending battles with Finn Balor aside, I've been enjoying his work as a figure of authority. He's a good supporting character to the Raw product right now but nabs a spot on this week's list thanks to blundering his way through failed attempts to mess with the Shield. First he talked Dolph Ziggler into using his IC title rematch, a move that didn't work. Then he gave himself a shot at Roman Reigns' Universal Championship, a decision that also backfired. But I guess he got a Raw main event out of it as well as his first P10 appearance. Totally worth it!
8. Aiden English (SmackDown Live)
It's no longer Rusev Day. Aiden English had a busy week. The story was less about he and Rusev's unsuccessful challenge for tag team gold on the Hell in a Cell pre-show, and more about him finally growing a pair on Tuesday night. After months of being the Bulgarian Brute's bitch, Aiden's hand was finally forced and he decided to attack first. It played out really well on the night too, with Lana overhearing his tirade against his friends and trying to tell her husband. Rusev didn't want the distractions before his US title match with Nakamura (a fun match as it goes) but the writing appeared on the wall for the friendship and English took Rusev out before he could find out about his words. Can we really blame Aiden though? In a world where we are quick to point out WWE painting the wronged party as the bad guy, I think we should be doing it again here. English hasn't been treated very nicely by Rusevs. The finger of blame is always pointed at him in defeat and the credit never given in victory. The fact is, he probably should have turned his back on them a long time ago. Stepping out of kayfabe for a moment, I think the run of Rusev Day has been a big boost for Aiden's career. It gave him the identity he lacked following the breakup of the Vaudevillains and he now has a stronger foundation to try and break out on his own.
7 AJ Styles (SmackDown Live)
The WWE Championship match splitting opinions has pretty much been a constant of 2018 PPVs. This time out a lot of the frustration was focussed on another controversial finish. I quite liked it myself. It fed into Joe's anger very nicely indeed and as the feud will continue heading down under, it made sense. That said, I do understand the annoyance at WWE dragging out feuds and having so many inconclusive finishes. I did think the match was fantastic up until that point too. In fact up until this point of the show, we were looking at a contender for PPV of the year. It was a bitter war of attrition that really should have been in the cell. Thankfully they will get to dance one more time where anything goes in Australia but it was back to everyday business on Tuesday night. Once again my boy Andrade Almas got to be the third wheel in a big feud and had another stellar TV match with the WWE champ. It would have probably been enough to get El Idolo on the list once again if it wasn't a PPV week. It also gave AJ the chance to get on with what he does best, being the standard bearer for in-ring action. While I still think it's probably time to shift that title elsewhere at this point, there is no denying a strong week here for Styles.
6. Drew Gulak (205 Live)
205 Live taking place after the SmackDown Live taping was something that baffled me from the get go. You wouldn't buy tickets to a concert and wait around to watch the warm-up act after Bruno Mars' set has finished. Taping it before SDL and airing the next day is the right move, even if it leaves the brand in desperate need of a name change. To kick off a new era, Drew Gulak got to challenge for the Cruiserweight title in a great main event. I was of the opinion that it was Gulak who should have won the vacant title at WrestleMania with two hot babyfaces in Alexander and Ali prepped to chase. He really picked up the mantle during that hot mess of an Enzo era for the show and looked like the perfect dependable heel anchor for the division. Getting back into the show over the last month I still believe that to be true. His in ring talent was clear from the first time I saw him but his progression of character and growth as an entertainer has been fun to watch. He brings it with him into his matches and put it all on the line against Cedric Alexander. He would even go to the top rope to try and bring home the title but after a fantastic back-and-forth encounter, Gulak would come up short. Now it could be back to the end of the line on Wednesday nights but with a couple of appearances as part of the random goon squad on Raw, I wonder if his talents have earned him a shot on the red brand going forward. While it can be sink or swim on Monday nights, I'd love to see him get the opportunity.
4. Pete Dunne & 5. Ricochet (NXT)
While the purpleweights did a great job with a main event that made a strong impression during a PPV weekend, NXT took it one step further. The Title vs Title match pitting the North American and UK champions against each other is something I've been looking forward to all week. I have become a massive Bruiserweight fan since I saw him in the first UK tournament last year and he impresses me more and more with every appearance. Ricochet is a guy that gets a whole lot of love online. I wouldn't call myself a huge fan of his work just yet, but his outrageous athleticism makes him a lot of fun to watch. The contrast between his fast-paced, high-flying action and Dunne's technical but brutal mat based offense was a thing of beauty. It was up there with the very best matches at Hell in a Cell and that is with the no-finish which saw Undisputed Era attack both men. While I undoubtedly would love to see these two go at it again, I think it would be better for both to move on with their respective titles now. I wouldn't be surprised to see them team up again with a bit more respect for each other as they both continue to feud with Cole, Strong and Co. Whatever happens next, I fully expect both of these men to be challenging for a top ten spot whenever they have a featured TV match. And when it comes to the Bruiserweight, I really hope that starts to happen more often, whether on NXT, NXT UK or hopefully the main roster sometime soon.
3. Seth Rollins/Dean Ambrose (Raw)
Chemistry is one of wrestling's greatest x-factors. Sometimes you can expect and hope that certain superstars have it with each other but you are left disappointed. Sometimes you can expect absolutely nothing from a feud or a new tag team and end up amazed at just how well things work. When it comes to modern day WWE, no duo have better chemistry for my money than Seth Rollins and Dean Ambrose. Whether it is as brothers or bitter rivals, I am always 100% invested in their interactions. To see them pick up where the left off before Dean's injury, in pursuit of the tag team titles, was amazing. For me they clearly took home match of the night honours at Hell in a Cell, just as they did during their battles with The Bar last year. They followed up that great performance with some fun cell shenanigans in a main event we don't particularly want to talk about today, as well as a pair of strong singles matches on Raw. Having failed to take home the titles, they obviously still have Shield business to take care of. Rollins still holds singles gold too however and I do wonder if The Lunatic Fringe will find himself in more singles action as we close out the year. Will we even see the next chapter of their rivalry but this time with Ambrose playing the bad guy?
2. Dolph Ziggler/Drew McIntyre (Raw)
When I started this series just four short weeks ago, had you told me that Ziggler and McIntyre would be a dominant force, I'd have looked at you funny. I'd enjoyed the partnership that has breathed much needed life back into Dolph, but the return of Dean Ambrose and their association with Braun Strowman has taken them up another level. Their tag title victory added some much needed prestige to the belts and their barnburner with Ambrose and Seth Rollins at Hell in a Cell continued to pile on. Victory was an added bonus for the duo with a win over the Shield boys a great addition to anyone CV. Main event hijinx and Raw one-on-ones would follow and I'd assume we can expect more of the same as we head towards the six-man tag in Australia. The big man-little man partnership here is really starting to come into its own. Personally I would give them a nice long reign with the titles before the inevitable split. With how far they have come, I think that would make a fine addition to the WrestleMania midcard so seeing some cracks in their camaraderie around Rumble time would be great. Now I've said that, Dean and Seth will probably win the straps next week.
1. Becky Lynch (SmackDown Live)
I just can't get away from Becky, can I? There's no doubt that the Lass Kicker is extremely deserving of the number one spot after a fantastic week. Her title match at Hell in a Cell with Charlotte lived up to the big expectations the build had given it. We know that Becky can really go in the ring. That is something that has never been in doubt. The edge that has come into her character since SummerSlam has really pushed things to another level. She always looks so focussed. She wrestles with a chip on her shoulder. Far too often in wrestling a character change doesn't come with those subtle tweaks once the bell rings. It's often either completely ignored or overdone like a Brock Lesnar steak. Ms Lynch has it nailed down. Her match with Charlotte may well be my favourite main-roster all-horsewoman affair. A strong story takes things to another level. It was her main event SmackDown Live segment and beatdown of Charlotte that pushes her to the top spot this week. Seeing the hate run through the new champion is a joy to behold, especially for those who sympathise with her path to the darkside. It has pushed her to become the most interesting female on the roster right now and my hope is that she will continue in that vein despite holding onto the prize she was chasing. If Tuesday was anything to go by, it seems Becky's next goal will be for universal and unconditional respect. Long may it continue.
So ladies and gents, that is the first PPV weekend edition of the P10 in the books. Becky gets her first #1 spot and remains a deadly force with the Dogs of War and Shield boys at the top. Fantastic main events on NXT and 205 Live made a strong impression despite some very good matches at Hell in a Cell. It's great to see the network shows continuing to make a splash and I hope that continues with Ali vs Itami being a forerunner to make that happen. Tune in next week to see if they deliver. In the meantime, you can let me know anyone who was unlucky to miss out or any other comments below or on Twitter.
You can also check out the latest episode of The Right Side of the Pond, where Plan and Maverick discuss what makes a great midcarder.
Until next week, peace!