'Sup, Lords of Pain? Wrestlemania is only 4 weeks away and I don't know about you, but it sure as hell doesn't feel like we're on the Road to it. With an unnecessary Fast Lane tomorrow night that will likely have zero impact on the way, we had a few shows to try get some hype drummed anyway. Who's on the list week? Find out in………………..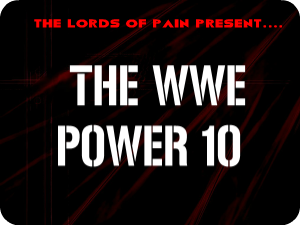 Week Ending 8th March 2019

8, 9 & 10. The Shield (RAW)
I've decided to lump these 3 together but for those that are interested, Ambrose is 8th with a vote more than the other 2 and Reigns is 10th because fuck him. In 2017 we had a month or two build of Ambrose finally forgiving Rollins for his betrayal a few years earlier. This week we get a role reversal done in a week. Ambrose always gets the short end of the stick but I can see this being a ruse to turn on his "brothers" at Fast Lane to set up a Wrestlemania match against Reigns before he goes out the door. As for the Rollins side of things, the sooner he wins the Universal Title and gets into a meaningful feud, the better.
7. Oney Lorcan (NXT)
I have to admit, I'm glad I was wrong about Oney when I first saw him. He looked bland as shit and I immediately brushed him off as enhancement but the bastard has made a fan out of me with his explosive and stiff style and it's nice to see he has other fans amongst the LOP voters. I was also pleasantly surprised when he advanced in the Cruiserweight tournament on 205 this week, all while putting up a fight on NXT in the Dusty Rhodes Tag Team Classic along with Danny Burch. Management obviously have faith in Oney as he has been on nearly every show bar the main roster (does 205 count?) and can be relied on to get a good match out of any opponent he faces. Look forward to see how he fares in the rest of the Cruiser tourney.
6. Akira Tozawa (205 Live)
Tozawa has been a mainstay on 205 since its inception and remains popular with the crowds. I also feel he's underrated. People talk about a Neville or Alexander who carried the show but Akira has consistently been in storylines even when it's not for the title and has put on a collection of matches that are entertaining. I'd rather he advanced in the tournament instead of Cedric (who I find rather boring) but this just reinforces my belief that Akira is constantly overlooked in the cruiserweight division.
5. Travis Banks (NXT UK)
The Kiwi Buzzsaw may have came out on the losing end of his feud with Jordan Devlin but he made a fan out of me. He plays the underdog roll well and his diving crossbody from the stairs was a great visual that'll be in video packages for the brand in the future. His willingness to absorb AND dish out punishment had the crowd rallying for a victory over the cocky Irishman but unfortunately wasn't meant to be. Feuds like this make me wish for a secondary title that guys like Travis can feud over but it doesn't make these stories any less entertaining without some gold.
4. Kevin Owens (Smackdown Live)
KO somehow manages to get the same spot on the list two weeks in a row now. As for the man himself, "face" Owens is a strange sight to me. With this feud being shoehorned in at the last minute, it'll take some time to get used to but I don't expect it to last long. Owens plays the "at all costs" prize hunter better when he's a bad guy because he justifies it as needing to provide for his family and I can see him reverting to his old habits to enter a feud with Mustafa Ali for Wrestlemania. Doesn't mean I won't enjoy his title shot in the meantime, just wish it was played out longer.
3. Samoa Joe (Smackdown Live)
Cheerio R Truth, I never liked you anyway. Finally Joe wins when it counts and it gets the title around a more deserving waist. Joe has consistently been delivering great promos and can go in the ring but his lack of big wins had him turning into the next Bray Wyatt. With this win he can hopefully restore some prestige to a title that has fallen off the radar in recent times (see Truth and even Nakamura's forgettable reigns) by fending off all comers. Of course I say that now and he'll probably lose it next week to some stupid decision and we'll be back to square one. Better enjoy it while I can!
2. Jordan Devlin (NXT UK)
Devitt…..er, I mean Devlin, is arguably the top heel on the NXT UK brand. His cocky behaviour just makes you want to smack the shite out of him but with his match against Banks (no Sasha), he showed that he can smack you back and hard. This is how you culminate a feud, by putting them into a match that fits the nature of their violence and hatred towards each other. The Irish Ace came out on top and I feel like he deserves a shot at the UK Title. After Coffey's fall from grace, Devlin is the main man to hate and his performance proves he has what it takes to dethrone Dunne. WALTER unfortunately is in the way so I guess Devlin will have to wait but that's not necessarily a bad thing if this feud with Banks is any indication of how he'll fare.
1. Ronda Rousey (RAW)
Ronnie has finally snapped. If people were on the fence about if she turned heel on Monday night, check out a recent video of her. She basically shits on WWE by saying it's not scripted and she can do whatever the fuck she wants. If that isn't working the masses to get people to hate her and stack the odds against Becky come Mania (provided she wins on Sunday), then I don't know what is. Her being tipped over the edge was coming and it was well executed, making Ronda out to be more of a badass than she already is. I could still do without the addition of Charlotte though, she adds nothing to this shindig.
Another week through. Fastlane is a miss for me this weekend but predictions are as follows….
Bryan to retain
Asuka to retain
Revival to retain
Usos to retain (hopefully and thankfully)
Boss N Hug to retain
Charlotte over Lynch
Corbin/McIntyre/Lashley over The Shield
New Day over Nakamura/Rusev
Andrade over Mysterio (why this is on the preshow is beyond me)
Usual abuse to me in the comments below. For Mazza, it's at the following
You can also check out the latest episode of The Right Side of the Pond, where Plan and Maverick look ahead to Fast Lane.
Until next week, peace!