'Sup, Lords of Pain? I hope we've all recovered from our trip down under. As a Brit, it was fantastic to be able to watch some important live wrestling at 10am on a Saturday. I enjoyed the show for the most part although I do wish I hadn't bothered with the main event. Those guys are obviously legends and I am a huge Triple H mark but it was pretty sad to see them pay bad tribute to their former glories. Spoiler alert, the old guys don't make this week's P10 and it's not the only place I don't want to see them again. With Shawn coming out of retirement however, it looks like we better get used to an even stronger part-time presence on the company going forward. Well, unless we get enough Saudi atrocities to make Vince pass on that Arab money (keep an eye out for a column from The Implications dropping on that whole can of worms very soon). I could rant all day about WWE's favouring the past over the present but that would kind of make me part of the problem. Instead, let's jump in with both feet to this week's column like a severely pissed off MMA fighter.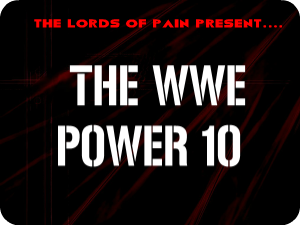 Week Ending 12th October 2018

10. Mia Yim (MYCII)
The highly entertaining second round of the Mae Young Classic closed out with Mia Yim taking on Kaitlyn. While I've not watched a great deal of either woman over the years, the match wasn't what I was expecting at all. Gritty would be the best way to describe it. It was an intense mat based encounter with lashings of juicy strikes. The announce team were quick to point out that Mia has been living and training with the MMA Horsewomen and it certainly paid off here. There was a touch of Chris Benoit about her performance as she battled through an injured hand to grind out a submission victory against the returning former Divas Champion. With Yim heading fulltime to NXT we are likely to see much more of this style which I think could really mesh well with a lot of the women currently in the company. She has more immediate business however as we head to the quarter finals of the tournament. With the quality we have seen over the last two weeks, I have high expectations as we get into the business end of things.
9. Nikki Bella (Raw)
So the worst kept secret in the wrestling world was finally revealed this week when the Bella Twins turned on Ronda Rousey to set up Nikki's title shot for Evolution. I know I am in the minority here but I am very much looking forward to this match. In fact I'd go as far as saying Nikki is getting a lot of unfair heat. Once upon a time the Bellas were the quintessential divas. The Women's Revolution was a process which started long before Stephanie McMahon decided to put 3 groups of 3 together and the twins, as well of the rest of the divas were challenged to up their game. Nikki did just that, while Brie struggled. With the Bellas returning recently, Nikki seems to catching a fair amount of the heat that is being thrown at Brie. The fact is, she has yet to almost kill herself or anybody else and if there is one lady who epitomises the word "evolution" in recent years, it's Nikki. She went from arm candy for Ceelo Green to leader of a very important transitional generation of lady wrestlers. While I am not going to call her one of the finest women to lace up a pair of boots, she did a great job during that time. Now she is back and she showed up big time this week, delivering a very strong performance at Super Showdown and on Raw to set up the big match with Rousey. And to be fair to Brie (who also received a vote alongside her sis here), she wasn't too shabby either. The twins' natural ability to portray bitches came to the fore as the little signs started to creep in over both matches. The post-victory attack of Ronda on Monday was very well done and I've got to say, I am looking forward to the pay-off.
8. Samoa Joe (SmackDown Live)
Joe fails to win the big one. Becoming a bit of a theme of his main roster tenure. Looks great, delivers well, seems a legit threat and takes the loss. Once again we find ourselves at the end of an AJ Styles title feud which I've enjoyed, the matches have been fine, but ultimately leave disappointed. Everything just kind of blends into itself when all is said and done and that is a shame because these feuds with Nak and Joe had the potential to be classics. Unfortunately I suspect they will both end up quickly forgotten. As far as sound classic wrestling storytelling goes, it all panned out as expected. Evil man terrorises champ and family. Evil man gets his comeuppance and taps out in the end. But just where does that leave Joe, a guy who is performing admirably. In the short term it was another loss on SmackDown to Jeff Hardy due to a leg injury. Is it a case of writing him off TV again for a while until we need him to battle a someone else? I wouldn't be terribly disappointed if that was the case as there doesn't seem to be an obvious target for him to go after. Hell, Randy Orton has first dibs on doing despicable things to the next available high level face anyway. Actually, psycho Randall and Joe would be a pretty fun combo. Send them after the New Day maybe? Hell, add in Nut-punt Nak and go full six man. And then have them face The Shield at Survivor Series. Not the greatest spot of fantasy booking in terms of long term implications but could be a bit of fun to close out the year.
7. Adam Cole, 6. Pete Dunne, 5. Ricochet (NXT)
A trio of internet darlings having a triple threat to close out an episode of NXT. They were pencilled in for this week before it even happened. What Cole, Dunne and Ricochet delivered was a thoroughly exciting popcorn wrestling spotfest. While I am predominantly a story guy, I still have a lot of appreciation for a bit of a car crash bout once in a while. This one certainly gave me my fix and some extra to boot. This was right in the North American Champion's wheelhouse, and there is no surprise to see that he not only took the victory in the match, but edged out his competitors on the list too. I've previously discussed the fact that Ricochet is never going to be my favourite but I have a very healthy respect for his athleticism and what he can do. He pulled out all the stops in this one, with the icing on the cake being the springboard moonsault at an insane angle to get the victory over Dunne. Talking of Dunne, my love for the Bruiserweight is common knowledge at this point. With NXT UK's weekly show finally starting next week, it looks like I will get my wish to see a bit more of him. He played into the spotfest well here but still managed to get his classic offense in, terrorising poor Ricochet's hands for a decent part of the match. Despite being the main antagonist here, Adam Cole kind of fell into the shadow of the other two. It probably wasn't the environment where he could showcase his strengths as well as the champions he was facing. He is still a great performer and foil however and one of those guys you just love to see get hit, and he got hit quite a lot in this one. So all in all, bravo to all three men for a great main event and flying the flag this week for NXT.
4. Charlotte Flair (SmackDown Live)
Every week Becky Lynch turns more heads and dominates the list. But you know what, it takes two to tango and this week Charlotte has made for one hell of a dance partner. Up until this point in the feud, the emphasis has been on the changing character of the Lass Kicker, and rightfully so. Flair's job has been to remain the constant anchor. We have now reached the stage however where the former champ needs to react too, and she has duly obliged. We had a pair of fantastic matches on Saturday and Tuesday between the former besties and Charlotte is bringing a level aggression with her to combat Becky's actions. Two of the best matches of the week, a fantastic post-match beatdown on SmackDown and Last Woman Standing match set for Evolution. This right here is the best thing going down on WWE programming at the moment for my money and as much as Becky warrants the praise being thrown her way, don't sleep on the job that Flair is doing across the ring from her.
3. Dean Ambrose (Raw)
My personal vote this week went to the Shield as a unit, however my fellow columnists are still high on The Lunatic Fringe's solo journey in this current arc. And that is fair enough. Dean has been central to everything going on in Raw's main event scene these past few weeks. Part of the reason why I am such a massive fan of the Shield is that they are the one thing the company have managed to write well on a consistent basis over the last 6 years. It is something that runs over into Dean and Seth's solo booking too and why I get so infuriated that it doesn't seem to extend to Roman. Reign's issues with character always seem to disappear the moment he is back alongside his brothers. It was another great night for them down under as the Ambrose turn was heavily teased once more before a fantastic saving spear from the Big Dog allowed Dean to hit a Dirty Deeds and take home the victory. It seemed the story was done but we would get a continuation on Monday night as 50-50 booking would rear its ugly head. Ambrose would take the fall in the rematch and leave the ring on his own. My personal take is that this is more frustration in letting his brothers down but the tease of the split continues, as does the feud with the Dogs of War. I hope this isn't the beginning of the end of this chapter for the group as I think this run has some legs on it, and I am still holding out hope for that Shield triple threat to go down at Mania next year.
2. Becky Lynch (SmackDown Live)
Ah good old Becky. This list would just feel wrong without her. The SmackDown Women's Champion showed a new trick this week, and that is the classic "I'm gonna walk off mid match with my title". It's a classic heel trope that probably doesn't get used enough in this day and age to be honest. Of course, this is enraging some fans who still don't want to accept, or think Lynch should be the heel, but we're all in at this point and just have to go with it. As I said above, this is the best thing going on in the WWE right now and I can't wait for what should be the final chapter at Evolution. If the matches so far are anything to go by, we are in for a massive treat and who knows, once we are done we could see Becky moving on to an Asuka feud which could be just as awesome.
1. Buddy Murphy (205 Live)
AUSSIE AUSSIE AUSSIE…
No?
Anyone?
Okay never mind. So Vince decided he was going to let the hometown crowd go home happy for once and Buddy Murphy is your new Cruiserweight Champion. The cruisers actually got a prime spot in the middle of the show this time which was nice to see. They definitely deserve more of a spotlight on these bigger shows and Buddy and Cedric grabbed the opportunity with both hands. It was exactly what you would expect from the two, a high paced, spot heavy bout that really pleased the crowd. Once the dust had settled, Alexander's somewhat lacklustre title reign was over and it was the Australian's time to try and advance the brand as the top guy. It won't be an easy job. Creatively and critically we have seen people succeed in the role however 205 Live continues to lack love and reaction. A new recording time, network time slot and champion however could very well freshen things up. There is a lot of great talent down there and it really would be a great thing to see the division grow.
And that brings us to the end of our down under edition of the P10. Hometown advantage sees the accolades keep coming for Buddy Murphy as he lands a first #1 spot for the cruiserweights. Becky continues to carry the torch for the brand while Dean Ambrose represents the Raw team once more. NXT manages to retain a spot on the list thanks to a great main event and the Mae Young Classic continues to make its mark with Mia Yim. With NXT UK starting next week, there will be a brand new show vying for contention. If you are enjoying this series, please do me a favour and let me know with a little like or comment below, or hit me up on Twitter.
You can also check out the latest episode of The Right Side of the Pond, where Plan, Maverick and myself look at the fallout from Super Showdown as well as look ahead to NXT UK's weekly network show debut.
Until next week, peace!