'Sup, Lords of Pain? Happy New Year guys. We are back from our extended festive break and ready to go again. We are however still a little hungover. The wrestling world in general seems to be buzzing right now. We've had another popular Wrestle Kingdom. AEW looks like they are going to be a big deal. Impact is… I don't know are they still a thing? For WWE's part, the move to change at the end of the year looks positive. Raw is improving and SmackDown has been a fun weekly watch for a while now. NXT UK has their first Takeover coming while NXT Classic and 205 Live continue to deliver bright spots most weeks. But who will make our first Power 10 of 2019? Let's find out.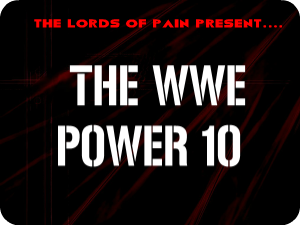 Week Ending 11th January 2019

10. British Strong Style (NXT UK)
Maz: Two years ago the WWE Universe were introduced to a whole new group of British talent. Now they are about to star in their first Takeover and front and centre are the breakout group from January 2017 in Blackpool. This column has shown a lot of love to Pete Dunne and I am sure that won't stop in 2019. His partnership with Tyler Bate and Trent Seven led to a fantastic main event for the go home episode versus the impressive Gallus. Well worth a watch if you need something to warm you up for the big show tonight.
Randy: Dunne and Bate are the foundation of NXT UK, with Seven helping out here and there. Unfortunately for them, Blackpool is the earthquake. Dunne will lose that title and the Grizzled Young Veterans will pip Mustache mountain to the post and become the inaugural NXT UK Tag Team Champions. That's not a bad thing because they're still the bar (no Sheamus and Cesaro) and will continue to be involved in major happenings but it's going to be a rocky start come Saturday.
9. Mustafa Ali (SmackDown Live)
Maz: Do you want to start this one?
Randy: Ugh. You can blow him because this is as good as it gets from me.
Maz: He will convince you one day! There is a lot of love for Ali amongst the columnists of LOP. He has settled into his role on SmackDown Live very nicely indeed and I would expect him to make this list a lot going forward. It will be interesting to see just how well he does in the rumble and also whether there is a big match against the WWE Champion at some point along the Road to WrestleMania.
=7. Bianca Belair (NXT)
Randy: I don't understand the love for her. Ali yes, because he's talented, but Bianca is mediocre. Is it the hair whip? Was cool the first time it happened but I need more. Being the "EST" isn't going to cut it for me when there are more talented ladies like Nikki and Candice out there so the sooner she fails in her title match, the sooner I don't have to waste my time on her.
Maz: I have to take exception here. I've really enjoyed Belair whenever I've seen her. Strong, athletic and has very good command of her character. Certainly more than I've seen from Mrs Gargano thus far. And I actually hate the hair thing. I think it's probably holding her back at this point. I am still not sure what an EST is either but I do know that when the bell rings I am always entertained. This trilogy with Nikki has been fantastic and sets Bianca up nicely for her match with Baszler where she will undoubtedly become DE-FEAT-ED.
=7. Joe Coffey (NXT UK)
Randy: The Iron King has a daunting task ahead of him in Blackpool as he looks to dethrone the Bruiserweight from 600+ day reign as UK Champion. I think he'll do it. Dunne (and Bate) have put NXT UK on the map but it's time for some fresh blood and a heel champion backed by minions is always a good way to go. Throw all the blue eyes at him (faces, for the uneducated British followers) and let him keep an iron grip on the title until someone heroically rises up to beat him. Simple really.
Maz: It's odd. The fact that you had a division for almost two years before you got a show. While on one hand it still feels you need Dunne to help establish the brand, on the other he's held the title for Sammartino amounts of time. While I don't see much use in the Bruiserweight staying on home turf without the title, I have very much enjoyed the rise of Gallus and Joe Coffey has shown to have a lot of talent in the ring and on the mic. In short, I'd be well up for a title change but as long as Dunne would head to the States, preferably wearing SmackDown blue.
6. Rey Mysterio (SmackDown Live)
Mazza: Talking of SmackDown blue, I think the show has found a good way of managing its veterans recently. They have been used well without taking centre stage. I mean don't get me wrong, I could live without them but they are much more palatable in that support role. And Rey did just that this week, helping El Idolo look like the star he has the potential to be.
Randy: Rey continues to roll back the years and as much as I've never been a fan of him, I'm enjoying the matches he's having. If he ends up in a feud with Almas thanks to the tag match ending, I'm all for it. Almas is a rising star and who better (than Kanyon?) to put him over than a fellow Mexican who is already a superstar?
5. Becky Lynch (SmackDown Live)
Randy: I'm actually looking forward to her title match with Asuka as I don't think they've faced off in singles competition before. Asuka will retain of course but I don't mind that because it keeps my prediction alive that Lynch will win the Rumble as a surprise entrant and then choose to face Rousey at Wrestlemania. I just hope people don't turn on Becky before then (you select few idiots know who you are).
Maz: The Man was on top form in the triple threat number one contenders match this week. Becky and Asuka should absolutely tear the house down, however I've put stock in a rumble winner who wrestled earlier in the night before only to end up bitterly disappointed. I think it's a mistake not to have be the focus of the rumble match and that makes me think it's because they are going in a different direction. However there is more than one way to write a great Road to Mania so I am going to try and not be too judgemental just yet.
4. Dean Ambrose & 3 Seth Rollins (Raw)
Maz: I've not enjoyed this Ambrose and Rollins feud much at all. Just as it seems like they are both moving on, they absolutely tear it up. Their falls count anywhere match on Raw this week is what I believe everyone was waiting for at TLC. Better late than never for sure but it is a great time to move on. Rollins is coming off a great couple of weeks with intense promos and he is my favourite to win the rumble and take on the Beast at Mania right now. Will that see Ambrose marginalised once more during Mania season? I hope not but he could get a little lost in the shuffle. I just hope he doesn't get Corbinned to the pre-show again.
Randy: Sorry 'Planuel, but this feud needs out out to pasture. I enjoy Rollins (not as much as him) and Ambrose surprised me with his successful face run but this latest pairing has not gone well. Seth will be moving onto bigger things (hi Brock) and that leaves Dean playing second fiddle as usual. Who will be his next feud? A very good question. No-one springs to mind but that's maybe due to the apathy towards how his heel turn has panned out so far.
2. Andrade Almas (SmackDown Live)
Randy: Almas finally gets a win and it's great to see. The man has a wealth of talent and has a mouthpiece to tout his skills accordingly. He had his matches on Smackdown but he was usually on the losing end. This win, even though it was a tag match, could be the beginning of a roll for Almas and it looks like he could feud with Mysterio and Ali on the way to Wrestlemania. Those matches will be worth the watch, I guarantee it.
Maz: Yep, once again Almas delivers big time when given the opportunity. Will it be back to the background or will WWE follow up on it. There is a bit more room for him on the next PPV with the rumble match so I hold out home for those matches on TV. Quite where it goes from there I am not sure, but I really do hope he gets what his performances deserve.
1. The NEW Daniel Bryan (SmackDown Live)
Randy: Give a raise to the genius that gave Daniel this gimmick. Consistently the most entertaining person on (main roster) WWE television since his heel turn, Bryan knocks it out of the park with the holier than thou attitude. I'll always mention the Punk Straight Edge Society but it shows that if the fed looks back at successful gimmicks and throws it at someone who is known to turn shit into gold, they'll never be boring again. Unfortunately, they're not that smart.
Maz: Imagine at the start of 2018 saying Bryan would be cleared, return to action, turn heel, totally have the crowd turn (without using Brie) and become WWE champion before the year was out. It is testament to just how great he is, not just an amazing technician but with a masterful command of character and crowd manipulation. His promo this week from the concession stand to the ring was innovative and a breath of fresh in style and delivered flawlessly. It will be a staple of compilation clips for years to come and I would be surprised if it was topped this year. He is just an absolute pleasure to watch at the moment. His reinvention following his relatively tepid return is the best thing going in the WWE right now.
So there we have it. 2019 kicks off where 2018 ended, with Daniel Bryan sitting on top of the Power 10. With the build to the rumble continuing I would expect some stiff competition and the Brits have a feature show to try and break the top half of the list. That is next week however. If you have any comments on this week's list, hit us up below or you can get me on Twitter.
You can also check out the latest episode of The Right Side of the Pond, where Plan, Maverick and myself look at the best winning performances in Royal Rumble history.
Until next week, peace!