'Sup, Lords of Pain? How strange. We actually had a regular week of WWE programming for once. No PPVs. No international blood money shows. No tournaments. I mean we had an extra episode of NXT UK but aside from that it was just the standard weekly watching. Could have done without a lot of it to be honest. Outside of SmackDown there wasn't a whole lot of interesting going on. Will that reflect in this week's list. I think that is likely. This week I have brought Randall back and we shall be tackling the list together. So that's new. If you are a regular reader, be sure to give us your thoughts on a two man booth at the end. Right, anyway, enough chit chat, let's get on with this week's….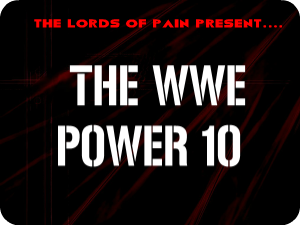 Week Ending 9th November 2018

10. Pete Dunne (NXT UK)
Randy: I love the Bruiserweight. The man constantly puts on a clinic anytime he is on screen and I like to pleasure myself to dream matches with Rollins, a prime Angle or Benoit.
Maz: Yerp, knocks it out the park every time he is on TV. And he's head of his own show now too so even more awesomeness to come. And that War Games match. I only have a certain number of superlatives for Dunne but I expect him to continue to be an important part of WWE's secondary brands. I really do want to see what he can do on a Raw or SmackDown though. I am really intrigued to see how he can hang with the bigger guys.
Randy: I hadn't finished my paragraph yet, you twat, but since you've basically hit everything on the head that I was going to say, we'll leave it at that.
Maz: Ah the joys of collab columning. I've missed it. Shoutout to Uncle Joe. Hold on. I am getting some breaking news. We got a late set of votes in. Pete doesn't even make the list now so it was all for nothing. I sign you up and it all starts falling apart. Let's try again.
10. Seth Rollins (Raw)
Maz: Stick 'Plan on your voting panel at your peril!
Randy: I am not surprised in the slightest that 'Planuel voted for Rollins. I always gave him a ball ache on that Twitter thing I used to have (4th suspension and counting) for basically gagging on him but I can't fault the man for loving Seth's work. He has had a hell of a year, although I feel the pre breakup Shield stuff cooled him off slightly and it's will no doubt end with a bang due to Dean. Now that the Tag Title situation is sorted, do they square off at TLC? I'm hoping it'll be the Rumble or if they can, Wrestlemania. Highly doubtful though.
Maz: Funnily enough, he didn't vote at all. But I will still blame him for spreading Rollins related propaganda. It is a long way to see this thing out until Mania but if they take a break in the middle it can work. Of course I'd ideally like that to be for the Universal Championship but it seems we are all in once again on the Brock Lesnar show. Seth should be the man to take it from him in my mind right now but there would be a lot of moves to get there. In the meantime I am sure to enjoy his feud with Ambrose.
9. The Miz & 8. Daniel Bryan (SmackDown Live)
Maz: So what do you know, it seems WWE stop trying so hard with Daniel Bryan and The Miz and suddenly their rivalry becomes interesting again. SmackDown murdered Raw this week in terms of quality and the long term rivals' night long story played a big part in that. Co-captains for Team Blue saw them having to work together, which we shouldn't forget is where this all started way back in the original NXT. They traded ideas and insults throughout the night as the team came together and it resulted in a fired up Bryan taking out Samoa Joe, Miz and even Best in the World Shane McMahon, 3 of his teammates for Survivor Series. Daniel is suddenly interesting again. Long may it continue.
Randy: What better way to make a feud interesting again than by doing the "frenemies" angle. It worked for Benoit/Angle and Team Hell No, so why not Miz? As much as I love Bryan, this recent return has been a drag but this could rejuvenate him AND The Miz, who I think should take the WWE Title sometime soon (since Joe turned into Bray Wyatt). Look for shenanigans these next few weeks, unless WWE funks it up again….
7. Danny Burch (NXT UK)
Maz: This guy seems right up your alley. I know you love his partner, but never seen you really express much of an opinion on Danny.
Randy: Hard to really say much about Burch. He's just….there. British Strong Style like Dunne, minus the enjoyable factor. Kinda reminds me of Dean Malenko, just not as good. He does make a good babyface in peril for the tag team matches with Lorcan and can be relied on to have a good match with mostly anyone. He's a bitch for tapping out to the finger snapping on NXT UK this week though.
Maz: Yeah I am not sure I like that as a submission finisher, but I thought it was a great match. As a Londoner I have a lot of love for Burch in a scene that seems to be full of Brummies. Plus shouting "Ave it" is a win in my book. I do wonder where his future lies. Will he stick around the UK brand of spend more time as part of the tag team with Lorcan. Personally I reckon he should teach Oney a bit of Cockney and they can run roughshod over both NXT tag divisions with a Mitchell Brothers gimmick.
6. Andrade Cien Almas & 5. Rey Mysterio (SmackDown Live)
Randy: Andrade being without Zelina Vega this week is as wrong as me being without alcohol at the weekends. Her devious ways at ringside could've had a different outcome in the match with Rey but al(m)as. Cien has become a favourite of mine since his heel turn and partnership down in NXT and the man can go. I was looking forward to his match with Rey this week and while it was enjoyable, it left me wanting more/longer on a bigger stage. With Rey being in fantastic shape and rolling back the years in the ring, I hope we get to see it soon.
Maz: First of all, if you ever pun that badly in one of my columns again, I will have you banned from the whole internet, not just Twitter. As for Almas, it is the story of every time he gets on TV. He has wrestled fantastic cameo matches with half that SDL roster at this point yet sadly still can't get a juicy story. As you said, Rey is in fantastic shape. He's not been this useful to the WWE in at least a decade which is a breath of fresh air for the comeback veterans. I really hope to see some more shenanigans between these two so they can get into a full blown feud after Survivor Series and hopefully get Cien a good PPV outing in December.
4. Dean Ambrose (Raw)
Randy: Mean Dean strikes again. The anticipation of when he opens up on why he turned on Rollins is palpable (sup 'Plan?) and I like it. No need to go straight in, no kissing, draw it out with Rollins getting his ass handed to him until Dean is cocky/confident enough to let slip why he's doing it, then Seth can make his triumphant comeback. Funny that when the WWE do simple, they get the best results.
Maz: Yeah it is crazy how Seth and Dean seem immune to WWE's destructive booking whenever they are together. Right now it's all about making sure Rollins retains the sympathy in this all, so Ambrose's silence is definitely golden. The Architect put up a valiant effort to try and retain the tag titles against the Authors of Pain but it was not to be. Dean then stuck the boot in beautifully. His work over the last few weeks has been tip top and pretty much all of it has purely been down to facial expressions with very little speech. It's just a damn shame that Raw's top feud will be over a midcard title while an absent champ gets top billing at the big shows.
3. Drew McIntyre (Raw)
Maz: Raw was really bad this week. SDL absolutely blew it out of the water. Drew McIntyre however still managed to have a great night. The top of the Raw card has been thrown into total turmoil with Reigns vacating and Brock taking over once again. Quite what impact that has on Drew is hard to say. He and Dolph have lost their titles and a rematch seems to have been totally forgotten. For now the duo will focus on Survivor Series and with Strowman's focus shifting to Baron Corbin, I do wonder if the break up will now be fast tracked.
Randy: Correction Maz, RAW is always bad. My prediction 2 weeks ago of the Scotsman getting a shot at the Universal Title with Braun holding it has gone up in smoke and with the Monster's attention directed at Corbin, who knows where Drew will go? The man did get a convincing win over Angle in the main event and I still hope for big things down the line. Maybe a HBK/Diesel breakup ala Survivor Series 94 next weekend before Drew breaks out on his own?
2. Becky Lynch (SmackDown Live)
Randy: She can kick/lick/pound my lass any day.
Maz: Dammit Randall, they fought a revolution to stop comments like that!
Randy: Anywho…..
Maz: Again, Becky dominates the list and there is very little we can add to what we say every week. She is on absolute top form right now. She is at the very top of her game. She is the most compelling character in the company and quite frankly, she should be main eventing every single PPV she is on while she is this hot. Becky vs Ronda is by far and away the thing I am looking forward to most at Survivor Series at this point (and that is a show I find myself more excited for than most).
Randy: Added points from me for her Twitter/Instagram shots at other people. It's hilarious.
Maz: The Stan posts aimed at Rousey have been amazing! She really is The Man!
1. The Usos (SmackDown Live)
Maz: WWE's total disregard for tag team wrestling has really hurt Jimmy and Jey over the last year. While New Day's marketability has kept them visible at least, the Usos have been little more than filler. Yet every time they get a chance in the ring, they make the most of it. They had a couple of great little cameo's against AJ and Bryan in recent weeks which got them close to a spot on the list. This week they were back against their old rivals however and they took it to another level. The chemistry between these teams is almost legendary at this point. They never disappoint with their performances, even if the stage is more often than not well below where they should be. Jimmy and Jey picked up the victory and immediately recruited their opponents to a match that seems destined for the Survivor Series pre-show. Still let's look for the positives. We may get a cameo of Usos vs Top Guys in that match.
Randy: If anything is gonna be pre-show material, it'll (unfortunately) be the Cruiserweight Title match. I'm still holding out for a New Day breakup so Big E can get the push he deserves, because they've overstayed their welcome as a group. Not that they don't make magic, don't get me wrong, but I'd rather it was The Revival or more of The Usos (who I never was a fan of until they turned heel) getting chances. Gonna be an interesting clash of talents in this clusterfunk and it'll be nice to see the teams mix it up with fresh meat because Usos/Day have been fighting for what feels like forever.
So there's another week done and dusted. Many thanks to Randall for taking part. I would plug his Twitter below but I guess that won't be happening. One or both of us will be back again next week. In the meantime, feel free to hit us up with your thoughts on this week's list on Twitter or in the comments section below.
You can also check out the latest episode of The Right Side of the Pond, where Maverick and myself seemingly forget every wrestler's name as we discuss the fun start to WWE's NXT UK brand.
Until next week, peace!