'Sup, Lords of Pain? Well here we are. The card is in place. The Go Homes are in the bag. John Oliver has thrown in some last minute controversy however we are living out another WrestleMania weekend. It is like Christmas for wrestling fans except usually come the end of it everyone forgets all the good things that happened on a Friday and Saturday and are just pissed that the main roster doesn't deliver. Should be pretty easy this year. Give the faces the big wins in the top 3 matches and everybody should generally be happy. So with that said, expect no new world champion tomorrow night. For this week's column, we are tweaking our format. Instead of the Top 10 performers of the week, we are looking at the Top 10 stories going into WrestleMania weekend. So, no time to waste, let's jump in.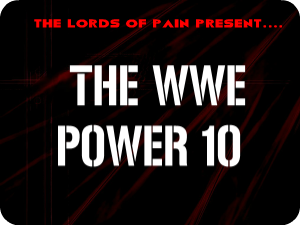 Week Ending 6th April 2019

10. It's Sad, It's Damn Sad (RAW)
Randy: So it has come to this. After a few weeks of winding down his illustrious career, Angle will have his farewell match at Wrestlemania. An event where he has had classic matches over the years against Chris Benoit/Jericho, Kane, Brock Lesnar, HBK and HHH/Stephanie McMahon. His reward? Baron fucking Corbin. Granted, Angle isn't the same man he used to be but the guy deserves better than this before he retires. Despite that, I'll still be in the bar shedding a tear for one of my favourite wrestlers as he goes out on the Grandest Stage. Not many can get to say they've done that so it's not all bad…….
Mazza: I feel a little bad for WWE on this one. When it comes to storylines, Corbin makes perfect sense to be Angle's opponent here. I mean it hasn't been a great story but it's been a consistent one. We all want one great Kurt match but I think we can all agree that isn't going to happen, so it is not like we are missing out on something spectacular anyway. I'd rather Kurt not be on the card at all but I don't really have an issue with Corbin being his final opponent. That said, the backlash and the reaction makes me think there will be more to this than meets the eye.
9. Blackochet vs The World (NXT & Beyond)
Mazza: One of the undercover highlights of this Mania season has been the strange bedfellows pairing of Ricochet and Aleister Black. It seemed like a pretty random team however the chemistry was clear from the get go. Not only have they torn it up on home soil, winning the Dusty Classic, they've also excelled on both main roster brands. They have looked like genuine contenders to both The Revival on Raw and The Usos on SmackDown Live. Their run has been rewarded with a chance to win two lots of gold at WrestleMania weekend. They will take on the War Raiders at Takeover and The Usos, The Bar and Rusev/Nakamura at Mania itself. It's really a big chance to establish themselves a big players.
Randy: I find it odd that they're now challenging for the SD Tag Team Titles instead of RAW because that's where they've had the more exposure and success. Would've been nice to see them in a 2 on 2 situation against The Usos but instead everyone gets thrown on the card. Since I highly doubt they'll beat War Raiders at Takeover, they could easily win the SD Titles to get them on the main roster running.
8. Nice Buddys, Neser Enemies (205 Live)
Randy: Remind me to smack you for that title on Saturday, Maz. As for the Cruiserweights, another year another main card snub. Somewhere, PAC (fka Neville) is having a fit. Whereas a last minute tag team title fatal 4-way gets onto the card, this gets relegated despite having a build better than the Universal Title match but that's not much of an achievement. Big fan of Murphy since he arrived on 205 and he has proved his worth since then but Nese on the other hand still has ways to go. What makes this interesting is the fact they're more power based but Murphy has the edge with his deceptive quickness so it'll make for a different match than we're used to when thinking of cruiser matches. Suppose the WWE needed something to make people tune into the preshow because I sure as hell wasn't going to catch the battle royals.
Mazza: 205 Live continues to plug away with a good hour of TV every week and basic but entertaining storylines. A lot of time a tournament leads to lazy booking but not here. There were wrinkles throughout the crowning of Nese as contender to Murphy's title and they immediately threw their friendship in the trash. Betrayal is always a great motivator for a feud and hopefully they knock it out the park for the 12 people who will be in their seats watching it on Sunday.
7. The Austrian Problem (NXT UK)
Mazza: Sadly my viewing of NXT UK has been pretty minimal since Walter has shown up. It has been a nice long build though from what I can piece together and that is usually a positive. Plus I am such a Pete Dunne fan, I will be all in on whatever he is doing. Roll on Takeover (written before Takeover).
Randy: A long build that hasn't been bogged down by unnecessary bullshit like the Mania main event, but I digress. Like Maz, I'm a Dunne fan but it's time for him to lose the UK Title. We all thought that was going to happen at Takeover: Blackpool but here we are 2 months later. WALTER is the man to do it and the matchup will definitely be an interesting one considering the size differences between the two. What I'm interested in is possible shenanigans. With WALTER being an Austrian, who better to form a faction with to prise the title away from Dunne than the European Union? British Strong Style vs The EU is a story that writes itself with all this Brexit bullshit we're having to endure at the moment. It won't happen but I'll cross my fingers.
6. Burning Down the Beast (Raw)
Randy: The sooner Rollins beats Lesnar the better. Lesnar vs Reigns (WM31 & WM34) and now this have contributed to 3 poorly built matches for a WORLD TITLE at the Grandest Stage and it's a joke. Despite the fact I was happy that Seth won the Rumble, I didn't expect the build to be worse than either of the Reigns programs but here we are. The one saving grace is the cliche subversion of Lesnar having the upperhand going into the show, as Rollins instead had the last laugh by stomping him into the mat. If he can repeat that on Sunday and get into meaningful feuds moving forward, that would be great.
Mazza: Lesnar is clearly the constant. I was in the same boat last year of just wanting it to be done so we could get our show back from a part time throwback to eras past. And then of course Brock won. And won again. And then finally lost but won again. So here we are again. Seth has done his best, cutting some good promos and I really enjoyed the low blows this week. It would make great sense if this were a no-DQ match. I am actually hopeful of a good match. Lesnar is very capable when not handcuffed to the booking and I am hoping Rollins can have enough input into it being a great match. Still I'd take an awful match that Seth wins over a great one where Brock retains right now.
5. Game Over? (Raw – I guess)
Mazza: I will be honest. I have no idea how this made multiple people's top 5s. Actually I do. The general Mania booking hasn't been great and Takeover seems to have just relied on title bouts. Still, Batista shouting the same thing over and over again isn't the best. Ah who am I kidding. I love heel Dave. He gave Hunter some serious shade, beat up Flair and brought back "What is your malfunction". I guess my biggest problem here is that I just don't want to see it.
Randy: While Maz loves heel Dave, I loved him when he was a fresh face 17 years ago. His Hollywood phase is better though and my soft spot for him will always make me want to see him even if the bastard is 50 years old. With Dave being a big shot actor now this will essentially be his retirement match, so I'm not sure why they had to tack on the "HHH career ending" stip to make it more obvious that Hunter will win. Bats spoiled it back at SD 1000 that Trips had never beaten him, so the result was never in doubt. Unless they shock us and go with the H defeat so he can focus on NXT and whatever else. It'll be a car wreck but I will be entertained so why the fuck am I (slightly) complaining?
4. Battle of the Chosen Ones (Raw)
Randy: McIntyre has been on a roll since the beginning of the year, yet even with a few losses here and there he still bounces back to remind people that he's a force to be reckoned with. If and when Rollins wins the Universal Title, Drew is a ready made challenger with his numerous wins over him and the RAW main event scene is sorely lacking a big bad. Come Sunday, it won't matter that he has Rollins' number because all that momentum will be flushed down the toilet when Reigns gets the "feel good" comeback singles victory and erases all that effort for the Scotsman. It's all well and good Reigns is healthy but I'll never be invested in anything he does until the end of time and nothing will change that.
Mazza: When you look at this, it is a seriously long running feud with so much history. Drew has been feuding with the Shield since Ziggler and Rollins were fighting over the IC title. It has pretty much been non-stop since then and the Scottish Psychopath has more than held his own over that time. It definitely kicked up a gear since Roman's return however. The Shield got their final moment at Fast Lane but McIntyre took out Dean Ambrose and got a win over Seth Rollins. It's just the Big Dog left to conquer now. While I don't think the chances of completing the hat-trick are very high, it has definitely been a fun ride.
3. The MAGA Powers Collide (SmackDown Live)
Mazza: Credit to 205 Clive for the name here, even though he said it wasn't him. So credit to you if you were the one that came up with it. I seem to be harping on about this a lot at the moment. Simple Mania midcard match. Simple booking. No need to overdo it. And you have something pretty awesome. Neither man is known for their ability to promo well but they've talked brilliantly over these last few weeks. The Indy Guy vs WWE Guy is far from a new phenomenon however when it is delivered with this degree of believability then it is very easy to be hooked in. I never at any point bought into AJ's part in his long feud with Samoa Joe. This is a different case entirely. And for once Randy doesn't seem to just be going through the motions. It bodes well for the night. Styles has become the guy you can always count on once the bell rings. Orton always seems right on the verge of delivering a big match if he can just be bothered. Sadly it's been a long time since that has happened but I really hold out hope it happens on Sunday.
Randy: Orton's best matches have come when he was a face (see the feud with Christian in 2011) but his heel side tends to be a boring oul shite that talks a big game. Current Randy seems to be straddling the fence as he still gets pops but he shit talks the Indy darling like it's a bad thing. With AJ as his opponent, we're guaranteed to get another midcard classic that seems to be a staple of Orton at past Wrestlemanias. Just look to his bouts with Kane and Rollins to alleviate those fears, Maz.
2. The Man, The Queen and The Baddest Bitch (What Brand Split?)
Randy: It's funny how a 2 week 'Champion vs Champion' build to Survivor Series was done better than this convoluted mess we've been given since the Royal Rumble. What was promising to be an awesome one on one encounter turned into multiple arrests, an overrated third being inserted into the picture, an unnecessary title change to make it "winner take all" and a kick in the teeth to Asuka. I'm sure it'll be a great encounter when all is said and done but this build is a classic example of too many cooks spoiling the broth, whereas the Styles/Orton match has been simple but effective and makes me look forward to it more.
Mazza: I really don't know where to start with this one. Maybe it all came together too early. Maybe it is getting too much attention. Either way, it has gone from number one with a bullet to having a few question marks surrounding it. While it's not quite what it was or what it could have been, it is still highly anticipated. It placing second on this list proves that. And while it has had some bad moments over the weeks, it still has it's good ones too. The Man continues to hold the love of the WWE Universe due to her scrappy performances on TV and ethering of the opponents on Twitter. Oh, and I tell you what, I actually really enjoyed that ludicrous go home segment on Raw. As silly as it was, it gave the last bit of hype and seeing that weaved into a video package will look great for years to come, especially that Flair knee to Ronnie's head.
1. KofiMania BAYBEEEEEE (Smackdown Live)
Mazza: It makes a refreshing change for WWE to stumble into something and then immediately lean into it, especially in WrestleMania season. Back in the day it seemed to be their business model and what made a lot of us wrestling fans. Now they seem to fight against so many things the crowds get hot for if it messes with their long term vision. The rise of Kofi has no doubt been helped by the fact that Daniel Bryan didn't seem to have a clear path to Mania this year. Just a couple of months ago it really was a struggle to think of who he would be facing at the Showcase of the Immortals. Right now to imagine it being anyone other than Kingston would just seem like madness. All credit to Kofi and the company for making this emotive storyline happen. Kingston almost taking on the role Bryan himself was in so famously half a decade ago makes it that much more interesting and while this story is all about the New Day veteran, the champion has more than played his part too. In fact, if WWE hadn't already announced that the ladies would be closing the show, there would be a big fan movement to make this the main event.
Randy: I personally have no investment in this storyline whatsoever and the sooner Bryan retains to move on, the better. Him losing would be a travesty as he is putting in some of the best work of his career to only drop the title to a flavour of the month. He's right, wrestling fans are FICKLE!
So there we have it. I may not have been invested in the Road but you can't beat watching wrestling with friends and alcohol when it's all said and done. Share your predictions for this weekend in the comments below or to Maz at the following
As for our Wrestlemania predictions?
Both for Lynch to win the RAW and SD Women's Titles
Randy for Bryan to retain, Maz for Kingston to win the WWE Title
Both for Rollins to win the Universal Title
Both for Joe to retain the US Title
Maz for Lashley to retain, Randy for Balor to win the IC Title
Both for The Usos to retain the SD Tag Titles
Both for Murphy to retain the Cruiserweight Title
Maz for Bats to win, Randy for HHH
Both for Styles to beat Orton
Maz for Reigns to win, Randy for McIntyre
Both for Corbin to beat Angle
Maz for McMahon to win, Randy for Miz
Maz for Strowman and Asuka to win the battle royals, Randy doesn't give a shit
Maz for Boss N Hug to retain, Randy doesn't care but wants the Iconics to win
You can also check out the latest episode of The Right Side of the Pond, where myself, Plan and Maverick will also be previewing and predicting Mania.
Until next week, peace!