'Sup, Lords of Pain? Another week has gone by in the world (Wrestling Entertainment) and Mazza is still nowhere to be found. Luckily I'm still here to steer the ship but I might call a mutiny and take this gig for myself as it's quite fun. Bonus points for whoever gets the title of this column but enough about that, it's time for………..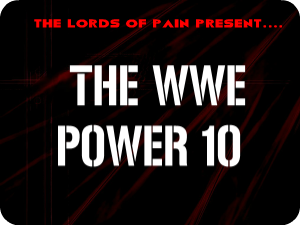 Week Ending 14th December 2018

10. Trent Seven (NXT UK)
Trent is a strange one. He looks dapper but then he appears in wrestling gear and looks out of shape. That doesn't mean I don't enjoy him, far from it, but I always find him to look odd. Even though he was defeated thanks to the Gallus lads he still had an entertaining match, which you can always guarantee when he's on the card. Mark Coffee and Wolfgang will surely be a thorn in the side of Mustache Mountain when the UK Tag Titles are introduced and that will only mean good things for us.
9. Joe Coffey (NXT UK)
With his UK Title shot coming up at Takeover Blackpool, Coffey gets some much needed momentum over the running buddy of Pete Dunne, Trent Seven. Gallus will be the deciding factor in Joe being the one to finally end the reign of Dunne and he'll be hard to knock off once he gets his hands on the title. You heard it here first.
8. Baron Corbin (RAW)
Does Corbin become general manager full time tonight or will The Monster Among Men actually return and vanquish one of them men that put him on the shelf? Baron doesn't seem to believe that Braun will be back tonight and I'm struggling to see it too. With Vince McMahon returning to RAW tomorrow night this could be a 2 day nightmare he will endure, win or lose.
7. Ricochet (NXT)
The North American Champion had a surprise challenger in the main event this week and everyone was happy to see that it was Tyler Breeze. The champ showed his skills and successfully defended but where does he go from here? With no challengers on the horizon and the NXT Title scene already busy, Ricochet might get lost in the shuffle unless something is done quickly.
6. Becky Lynch (Smackdown Live)
I'm not sure why people voted for The (wo)Man because she didn't really do much this week. We now know she is cleared to wrestle by mixing it up with Charlotte and Asuka but I feel like the injury has cooled her off a bit. I wouldn't be mad with her losing the title to Asuka tonight then failing her rematch at the Rumble, only to be a surprise entrant in the Rumble and win it to face Ronda Rousey at Wrestlemania 35. That's the only way they're going to get that match to happen and it's one I very much want to see.
5. Bobby Roode & Chad Gable (RAW)
Bobby Roode and Chad Gable are two wrestlers I enjoy but only when Roode was a heel in NXT and Gable isn't whoring around with different tag team partners. Together they won the RAW Tag Team Titles because of Drake Maverick and that's it. AoP are victim of the usual NXT call up syndrome of being treated like crap but Roode/Gable are in the same boat except they are the champs. The sooner the titles are off them, the sooner Roode can turn heel and Gable can flourish on his own (wishful thinking).
4. THE NEW Daniel Bryan (Smackdown Live)
I love this "better than you" gimmick. It reminds me of CM Punk and his Straight Edge Society stuff years ago and it led for some fun stuff. The champ put down The Heart of 205 Taped in a matchup no-one saw coming but very few people disagreed with. There's no chance Bryan loses the title tonight as he's only just beginning with his heel turn and it'll keep him away from the Rumble that everyone has expected him to win every year he has been eligible.
3. Auska (Smackdown)
The Empress of Tomorrow had the last laugh after being attacked with a kendo stick by Charlotte during their match on Smackdown and I'm hoping it means a title win tonight for the lady. Her journey since the loss at Wrestlemania hasn't been pretty but her path to 35 could start at TLC and get her into a prominent spot for the Smackdown side of things.
2. Mustafa Ali (205 Taped/Smackdown Live?)
A bit random for Ali to show up on Smackdown this week but I'm not against the 205 Taped guys showing up anywhere they please. The prospect of some sort of "dream matches" happening is a nice thought and I'm sure 'Planuel is salivating at Ali mixing it up with his boy Seth down the line. He had a good showing against the WWE Champion and I'd like them to have something longer in future, despite my indifference to Ali.
1. Seth Rollins (RAW)
The Architect grabs the top spot (and his title) this week with a needless TLC win over Baron Corbin. I say needless because it could've been a disaster if Rollins was injured a few days before his match with Ambrose. The man has nothing to prove kayfabe or not and it's a bit reckless on the Fed's behalf to put him into that position, possibly due to their ratings slipping slowly AND surely. I think he's a shoe in to retain tonight but if he loses it'll be due to his actions against Corbin and new referee Heath Slater. That can only mean better things, with a Rumble win and Universal Title shot at Wrestlemania (hopefully).
Well that does it for another week. Maz is allegedly back next week but I'll believe it when I see it. The usual place to harass him is the following.
As for my TLC predictions tonight…
Daniel Bryan to retain against AJ Styles
Seth Rollins to retain against Dean Ambrose
Braun Strowman to somehow win against Baron Corbin
Ronda Rousey to retain against Nia Jax
Asuka to win the Smackdown Women's Title
The Bar to retain against The Usos and The New Day
Natalya over Ruby Riott
Drew McIntyre over Finn Balor
Bobby Lashley over Elias
Buddy Murphy to retain against Cedric Alexander
Rey Mysterio over Randy Orton
Fuck the Mixed Match Challenge finals. Everyone one of them sucks.