'Sup, Lords of Pain? Tis I, Randall, back again with another Power 10 but today I have a very special guest joining me since Maz is presumed dead. Welcome back to the main page, Skitz!
*crickets*
Er, hang on a moment…..
*checks messenger*
Ah, it seems Skitz won't be joining me as he had a blind date last night and is currently locked up in a basement. Guess I may get to………….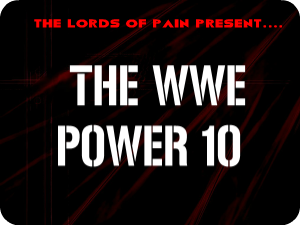 Week Ending 1st February 2019

With there being a few wrestlers that received 1 vote each, 9th and 10th spot will be chosen randomly……hang on, I just received a message from Skitz (in Morse code from the looks of it) and he has already picked the two spots as a way of apologising for no showing.
10. Brock Lesnar (RAW)
I'm glad he's stuck in that basement….ahem. Lesnar had a fairly routine outing at the Rumble and the result against Balor was never in doubt despite a "valiant effort" from the Irishman. The subsequent mauling of Rollins by Lesnar the following night did nothing to get me excited for their impending match at Wrestlemania but they have just over 2 months to get the feud heated up. Will Lesnar show up often? Highly doubtful, so expect Heyman vs Rollins instead.
9. Undisputed Era (Roderick Strong & Kyle O'Reilly) (NXT)
These guys got another vote, so Skitz' pick of Drew McIntyre has been canned. Hope you escape that basement soon, buddy. As for Strong and O'Reilly, my favourite tag team had yet another strong showing at Takeover and unfortunately it ended with a loss. They've been a part of the Tag Titles scene for over a year now so it had to happen some time, I just wish it wasn't the Raiders (more on them later). There's not much more these guys can do in NXT, so I can see a "promotion" to the main roster (along with the rest of Undisputed) after Wrestlemania where they'll wow the audiences with their brilliance, in dark matches…….sigh.
8. R Truth (Smackdown Live)
I hate the fact I voted for this moron and hate the rest for doing it too so that he gets a spot on this list. I have only been entertained by Truth once and that was in TNA years ago when he was the NWA Champion. He has been an irritation since joining WWE with his rapping and "comedy" and the fact he won the U.S. Title pisses me off. The sooner he loses it, the better.
7. Sasha Banks (RAW)
The Boss showed up at the Rumble and showed that she can still go, despite the questionable booking since joining the main roster. She gave Rousey her best match yet but came up short and I can put that down to her and Bayley getting to the Women's Tag Titles match instead (ugh). If it's a catalyst for her to finally turn heel, I'm all for it. Until then, it's back to not caring about her.
6. Ronda Rousey (RAW)
The other half of the RAW Women's Title match continues to show that she's a natural in the ring but makes me mute the screen when she talks. The promo before her match with Bayley felt weird and some of the things are what a heel would say but her retaliation to Becky (who chose Ronda as her Mania title shot) felt better. You gotta assume she'll turn heel because with the rumours of her looking time off to start a family will have the crowd turning on her, so why not do it in the story anyway? The happy act doesn't suit her.
5. Johnny Gargano (NXT)
Johnny should change his nickname from "Wrestling" to "Takeover" because any time this guy is on one, he steals the show. Match of the night honours go to him and Ricochet with the balls to the walls showing for the North American Title. The icing on the cake was him showing up as an entrant in the Rumble the next night to strut his stuff even more. The deal with Ciampa keeps his story interesting and keeps him in NXT a bit longer and that's a good thing. He'll be sorely missed if he's ever "promoted" to the main roster.
4. War Raiders (NXT)
These guys are talented, I'll give them that. I just don't see the appeal of them. Maybe I'm just bitter they dethroned my favourite tag team but as I said, it had to happen eventually. There's a plethora of teams in NXT chomping at the bit for a shot at the titles so we'll get fresh matchups with the new champions and who knows, maybe they'll win me over with a string of great defenses.
3. The NEW Daniel Bryan (Smackdown Live)
The Straight Veg Society (copyright me) is born. The comparisons to the Straight Edge grows more apparent each week. Bryan retained at the Rumble thanks to an unlikely assist from Erick Rowan of all people and it seems the two are in cahoots with their clean ways. To further put the point across, Bryan unveiled an eco friendly title on Smackdown while continuing to crow that he's the Planet's Champion. With Rowan at his side, he's sitting pretty but unfortunately, the Elimination Chamber match is coming up and his reign could be in jeopardy. Here's hoping he retains and gets a prominent spot on the Mania card. Who against is beyond me.
2. Seth Rollins (RAW)
The first of our Rumble winners gets the second spot and it was the logical choice. Predictable too but there's nothing wrong in that when it's a welcome decision. As I mentioned earlier, his destruction at the hands of Lesnar on RAW doesn't get the feud off to a good start but if anyone can make a cake out of dogshit, it's Rollins. He even got a cheeky win over Ambrose to end that chapter so it can only mean upwards for Seth as he heads to the main event of Wrestlemania. Unless our first entrant has anything to say about it…….
1. Becky Lynch (Smackdown Live)
Who else was it going to be? Even my mate's dogs flea knew Becky was gonna win the Rumble on Sunday, it was just a matter of how it was going down. It was a brave move to have her tap out to Asuka at the start of the night but it adds intrigue for the showdown with Rousey as she has a submission finisher too. The continuation of Lynch's character, with her brazenly going out to offer herself as a replacement for the injured Lana, was grade A stuff and paid off handsomely. I'm all for Becky and Rousey main eventing Wrestlemania. I just hope they don't fuck up the build.
Well that'll do it for this week. The Road to Wrestlemania has well and truly begun and with two matches set in stone, their builds begin now. With TWO more PPVs until then, a lot can change. I'd rather they limit the number of PPVs but when do I ever get anything I want? If you do want to do something for me, hurl abuse to Maz at the usual.
You can also check out the latest episode of The Right Side of the Pond, where Plan and Maverick welcome special guest The Doc to discuss the week in wrestling.
Until next week, peace!