'Sup, Lords of Pain? Funny how stuff can turn on its head all of a sudden in wrestling. What a week that was for the WWE. As I watched the network shows for this week's column, the company was wrongly advertising a double main event for Survivor Series. That's just crazy. Sometimes that can be just the injection needed to make a show a bit more interesting. I guess we will see how it all pans out tomorrow and that could very well reflect in next week's list. But let's not get ahead of ourselves. First we need to deal with the week just gone. Randall is back to give me a helping hand with the latest edition of…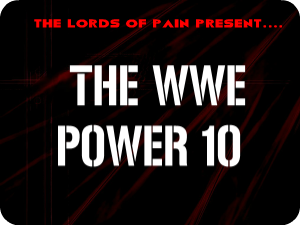 Week Ending 16 November 2018

10. Dave Mastiff (NXT UK)
Randy: Since there were not many votes for others and with 'Bear always going for William Regal (keep trying buddy), I decided to go for a guy I have a feeling I'll be a fan of in the future. His Vader inspired singlet, unique build and brilliant corner cannonball gets Dave the 10th spot this week and I'm hoping to see more from him in future episodes.
Maz: Big fat Brummy who jumps on people? Sounds like my boss (Hopefully he never reads this. If he does, love ya Steve!). Yeah definitely early days yet for me to totally get behind the guy but he is the latest hoss they are building up and it seems like a fun guy. Watch this space for more.
9. Bobby Roode & Chad Gable (Raw)
Maz: I like this team, but they've sadly they haven't got a whole lot of time on TV. A lot of fun when they are on TV but when all they have to go up against is the Ascension, the future doesn't look too bright. They still managed to win the battle royal to captain four other jabroni teams on the kick of show however. They actually got their vote this week due to a pretty good match with The Revival on Main Event. Full disclosure, I didn't even know that was still a thing. A huge waste of three quarters of a bunch of match of the year contenders from two years ago.
Randy: Roode and Gable are being wasted. Bobby had a great run in NXT as the main bad guy but on the main roster he's a "glorious" good guy. Chad is the second coming of Kurt Angle and while I loved American Alpha, I was happy to see him go solo. That went nowhere and now he's partnered with Roode to probably go nowhere too. Maz is right though, the match with Revival was great but that's a given considering all the participants involved.
8. Wolfgang (NXT UK)
Maz: My fellow Ponder and LOP columnist Maverick has made it his mission to get Wolfie on the list in recent weeks and he finally succeeds. He has been a very solid performer since the first UK tournament but his turn to stand with his fellow Scotsmen has added a little bit more to him. A good hand in ring and the addition of a bit of character has really helped him turn some heads.
Randy: I remember rooting for Wolfgang in the first UK Tournament and was impressed with what i saw from him at the time. It's smart to have him be the bad guy because the Scots and English hate each other like I hate sobriety. Interesting to see where the lads go from here but I'm always a sucker for factions and NXT UK doesn't have one yet (that I'm aware of).
7. Lio Rush (205 Live)
Maz: Never sure what to think of the Man of the Hour. On one hand he is endorsed by Topanga, and why wouldn't you listen to Topanga. On the other hand he managed to piss off the locker room before he even started and is annoying as hell. He is however starting to come into his own. The fact that he is so jarring is paying dividends on Raw as Lashley's hype man, and I honestly think the only person he is going to get over in that partnership is himself. When you couple that with his seemingly insane speed, athleticism and evasive powers, you are onto a winner. An really annoying dude that is close on impossible to catch. He had a very fun main event in ring too on 205 Live with Cedric Alexander where he got to show off his skills even more. My word his frog splash is a thing of beauty.
Randy: Something so satisfying about when he hits it. Since his ceiling is 205 Taped, he might as well branch out into other ventures and managing seems to be it. He's annoying but that's his job and he could form some kind of management services down the line because lord knows a few wrestlers could do with a hype man like Lio. He's young too, so expect him to be around for a long time (unless he makes another poor joke).
6. Kyle O'Reilly (NXT)
Maz: Help me out Randy. I see a lot of love for this guy which seems to mostly stem from strange and quirky things he does and mannerisms. I mean should playing air guitar on a tag title get you over?
Randy: Ironically I was never a fan of him when he first showed up but he has become my second favourite Undisputed Era member after Strong *reads further down the script* since you've knocked it on the head already, I'll just leave this video here and let you see for yourself…
Maz: While I can't say I am into all his weirdness, there is no doubt he is extremely talented in the ring. One of those technical wrestlers we love here in internet land and he showed that off beautifully in a rare singles outing against the mahoosive Hanson. A quality main event for NXT which saw him nab the advantage for his team for War Games.
Randy: I can't wait for War Games tonight.
5. AJ Styles (SmackDown Live)
Maz: The reign is over and the Champ That Runs the Camp has to settle back into being the Face That Runs The Place again. At least he does have to share the top babyface male role with Daniel anymore I guess. The switcheroo with the WWE title was maybe even a bigger surprise this week and than last year when he won the title just before Survivor Series. As regular readers will know, I have long wanted AJ to drop the belt as he's just not been delivering in the character department this year. Of course it's not surprise that he delivers in the ring more often than not but hopefully this feeds into his motivations and we can get more than just top ring work from the guy. I mean not that the top ring work is bad or anything. It nabbed him a spot on the list again as it often does.
Randy: I'm actually surprised they did the title switch so close to the Series but I shouldn't have been. AJ got a good match from The Beast last year and I was looking forward to the rematch with the slight hope Styles would get the win but alas, it is not meant to be. Not sure where AJ goes from here after his guaranteed rematch clause because he has basically fought everyone on Smackdown. A move to RAW in the new year, perhaps?
4. Drew McIntyre (Raw)
Randy: The Scotsman is making a habit of showing up on this list recently but I'm not complaining. To think, 9 years ago the WWE was calling him the "Chosen One" and failing, yet here they are now doing the simplest things and he's getting over. Good to see Ziggler adopting the lackey role because it's time for Drew to shine.
Maz: He really has stepped up to the plate this time around. There is even a rumour he is winning 'Plan over which I never thought would be possible. He's just a big menacing Scottish hard nut and he is playing his role to perfection right now. It's funny how he used to get a lot of comparisons to a young Hunter at the start. They were apt. Drew had to leave to continue on that path and once again I do see a spot of Trips in there just as he was about to get his first title win. Is that foreshadowing? Time will tell.
Randy: I want to know his workout routine because I don't ever remember him being that tall and muscular (pause).
3. Dean Ambrose (Raw)
Maz: Here's the thing. I've very much looked forward to the Ambrose heel turn. I thoroughly enjoyed his work in the build up to is. But it's happened and I am just not that excited by it. I mean it's the best thing going on Raw (when Team Blue don't show up at least) but I am not gripped by it like I thought I would be. Maybe I just want more of Seth and Dean beating the crap out of each other like the first time around but I guess that is the difference between an Architect and a Lunatic being wronged. Visually, Dean's promo this week was stunning. I just wasn't particularly taken with his words.
Randy: There's not a lot wrong with what Maz said there. The reversed roles isn't nearly as entertaining as a face Lunatic going apeshit on the bad guy so the story since the turn has been passable so far. With Seth going against Nakamura at Survivor Series, I expect Dean to show up and cause the cliche distraction and/or cost Rollins the match but I'm hoping for something more to get this into the next gear or else I'll have lost interest already.
2. Daniel Bryan (SmackDown)
Maz: YES! YES! YES! YES! YES! YES! YES! YES!
Randy: THE MIRACLE KID!! How crap must Nakamura feel for not being able to beat AJ with a shot to the balls numerous times, yet Bryan did it on his second attempt at the title? The good thing is we finally get to see the rumoured Summerslam 2014 matchup that was supposed to happen before Bryan got injured. The bad thing is that Bryan might die if YOLO Lesnar shows up. Is it bad I want to see the latter? Sorry in advance, Daniel.
Maz: It was a funny old week this week. The number one person (bet you can't guess who!) was first on everybody's list but Daniel was second on everyone's list as well. Any other week, his turn and championship win would have surely snagged him top spot. But now we have a whole new Bryan to look forward to. One we didn't expect and with a big match on Sunday we weren't expecting too. Let's just hope he doesn't get well and truly Lesnar'd.
1. Becky Lynch
Maz: What an absolute rollercoaster of a week for The Man. She leads an all female invasion of Raw. Destroys Ronda Rousey. Takes it to the ring. Gets her face rearranged by Nia Jax. Destroys Ronda Rousey. Delivers one of the most iconic images in WWE history as she leaves. Gets diagnosed with a concussion. Tags in and reconciles with her best friend on SmackDown. Becomes the face we were all cheering anyway in the process. And spends the next few days on Twitter destroying Ronda Rousey. While we have been robbed of something that was going to be very cool on Sunday, Becky's momentum has somehow skyrocketed even further. This is the most invested I have been in a wrestler since Bryan's run to WrestleMania XXX. It's special. Very special indeed, and it is tugging at my emotions which is what all the very best manage to do.
Randy: Fellow (southern) countrywoman bias aside, I have never been so invested in a female wrestler since……ever. I've always preferred her out of the Four Horsewomen but she was never given a fair shake at the stick. Look at her now. I was looking forward to the Ronda showdown this weekend but this could be a blessing in disguise if we get it at Wrestlemania instead. The barbs traded and the aforementioned invasion are grade A stuff and Becky deserves the bigger spotlight than the overexposed Charlotte.
So there we have. Absolutely 100% the week of Becky and while it will be gutting not to see her at Survivor Series, the Lass Kicker Train isn't going to be slowing down any time soon. I wish I could say the same about myself however. Work is going to ramping up so Randall will be taking control of the column for a couple of weeks. So if it all goes to pot, you know who to blame. As for this week however, we would love to hear your comments. Did anyone even have the slightest chance of upsetting Ms Lynch for top spot? Hit us up in the comments section below or on Twitter.
You can also check out the latest episode of The Right Side of the Pond, where Plan amd Maverick look ahead to the Survivor Series PPV.
Until next week, peace!