'Sup, Lords of Pain? Better late than never, eh? Life/alcohol got in the way of having this out at the usual time and with Mazza still feeling the effects, I'll run solo this week. With the main roster still running on autopilot (at least in my eyes) with 2 weeks to go until Wrestlemania, can the Network shows step in and steal a few spots on the list? Find out in…………..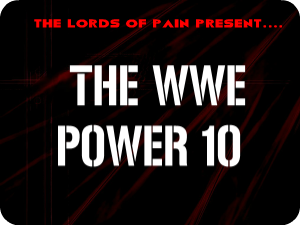 Week Ending 23rd March 2019

10. Velveteen Dream (NXT)
The first of the competitors from the Fatal 5-Way makes his appearance, so expect the rest of them to show up further up the list. There's not much more I can type about The Dream that I haven't already said any time he makes the list (no Jericho). His presence demands your attention and his in-ring work continues to improve, not that it was poor to begin with. The polar opposite to Riddle will make for an interesting matchup come Takeover and it's a match I'm looking forward to on a stacked card.
9. Ricochet & 8. Aleister Black (NXT)
I never thought I'd enjoy a tag team consisting of these two wrestlers but here I am being thoroughly entertained by how well they have gelled since being randomly thrown together. This week they were opponents in the main event and it actually makes me want to see them feud down the line. Black, the dark mysterious one, versus the real life superhero in Ricochet. Of course, this will only work in NXT because if they do move to the main roster after Wrestlemania, they'll be just like every other call up. Wasted, like I was on Friday night haha.
7. Seth Rollins (RAW)
Rollins is dead in the water. As much as his loss to Drew McIntyre potentially sets up his first challenger for the Universal Title (provided Seth wins at Mania), this "build" towards his match with Lesnar has been a disaster and now I don't care if (and when) he wins the title. I can't even guarantee the match will be that great either due to Lesnar and his Suplex City ways so that decreases the hype factor even further. Just do away with the Universal Title already, it's cursed.
6. The Iconics (Smackdown Live)
Before anyone points out that I spelt their name wrong, go fuck yourself. Having two i's in it is stupid so I refuse to spell it that way. These ladies are a guilty pleasure of mine since they teamed up, although I was a fan of Royce before that. With her as the better wrestler of the two and Kay as the annoying one, they were meant to be. With a win over the Women's Tag Team Champions this week, they have a solid claim to be the number one contenders but with the way the Fed is, they'll go with the clusterfuck match that is being teased with the Divas of Doom and Tamina/Jax. I'd rather have a 2v2 situation to let the ladies show the world what they're all about but alas, we don't live in a perfect world.
5. The Miz (Smackdown Live)
I'm not sure why he got a few votes this week because personally I thought his promo on Smackdown was cringey as hell. The "best friends" crap was forced from the beginning and dragged the tag team division down to its usual low depths just so these guys could feud. Shane looks like he's going to die every time he "wrestles" and Miz, despite being likeable on his TV show, is a natural heel. I expect this to be some kind of street fight so Shane can dip into his usual bag of tricks but Miz needs to move on from this quickly with the win.
4. Matt Riddle (NXT)
The Stoned….sorry, Original Bro is steadily making a fan out of me. His match with Gulak a few weeks ago opened my eyes to him and his performance in the main event of NXT solidified his ascent up the rankings. It'll make for an interesting match against The Dream come Takeover: Brooklyn (fuck New York) with the striker/grappler/submission specialist going up against a flamboyant, psychological wrestler. Could be a sleeper MOTN.
3. Adam Cole (NXT)
2 years into his NXT career and Adam Cole (BAYBAY) is main eventing the biggest Takeover of the year. His debut and subsequent path with the Undisputed Era has been booked to perfection and it has all led to this. The matchup is intriguing despite the hastily arranged booking of it due to Ciampa's unfortunate injury and I say that due to the possibility of Gargano being promoted to the main roster after Wrestlemania. With the injury causing a main event change, they might need someone to carry the brand forward after the inevitable roster raid with the draft and Gargano could be that guy but since they have him pegged to be on the main roster already, I can see him going and Cole winning the title. With the Era having his back, he could be the slimy/chickenshit heel that barely escapes by the skin of his teeth and that's something I could get behind until someone rises up and dethrones him.
2. Tony Nese (205 Live)
I'm glad Nese beat Mehdric Alexblander but I'm still bitter it's not Gulak challenging for the title at Wrestlemania (well, preshow). It was telegraphed a mile away with Tony being buddies (no pun intended) with Murphy and the subsequent beat down after Nese beat Alexander wasn't drawn out into some convoluted story (I'm sure WWE would've found a way with 2 weeks to go before the show). What's interesting is that both guys are kinda similar with power moves that aren't really associated with cruiserweights but with the current form that Nese is in and Murphy being a solid hand, it'll make for a grand opener to get us warmed up for the main show.
1. Kofi Kingston (Smackdown Live)
Randy – I don't really have anything nice to say about all of this shit because it irritates me. You can field this one Maz and don't use me voting for him as ammo because I'm being considerate towards him even though I do hate it.
Mazza – ……
Randy – Oh yeah. Well, as I said to Maz the other day, this shit is forced and he's only in the position because Mustafa Ali was injured. Since I'm not a fan of either, I'd have preferred Ali due to being the lesser of two evils and being unproven. Maybe he'd have won me over if the same path was given to him as Kofi has been but that's a What If for another day. If he does face Bryan at Mania and wins, I'll be ignoring Smackdown for the foreseeable future. The Network shows are good enough viewing material without having to deal with the main show bullshit that they can't seem to settle on.
Well, that'll do it for another week. The Network shows really are the only safe space that doesn't have Vince McMahon's grubby hands on them and it shows. The sooner he fucks off to the XFL, the better. Then maybe I can look forward to an exciting Road to Wrestlemania again. Usual hatred towards me in the comments below or if you want to chastise Mazza for bailing, it's at the following
You can also check out the latest episode of The Right Side of the Pond,
Until next week, peace!