G'day Lords of Pain, welcome back to YES Relived, the mostly weekly series where we go back to relive one of pro wrestling's greatest ever stories, the rise of Daniel Bryan and The Yes Movement. Starting at Summer Slam 2013 and going through to Wrestlemania 30 I will be rewatching, reviewing and analysing Daniel Bryan's story on a week by week basis.
For those of you who haven't been reading since the start, I was not actually watching wrestling at this time, I came back to the WWE after a few years break just after the 2014 Rumble. The reason I mention that is because I am now into unknown territory with the story we are going through. I know the basic outline of where it is all heading but as far as the week to week and even month to month narrative goes I am experiencing a lot of this for the first time and I have to say I am absolutely loving it.
It is no secret that a lot of the writers here on this site are really struggling with feeling excited about wrestling right now. However this series is really keeping me motivated and excited about the WWE because when the WWE gets it right there is nothing like it.
Two weeks ago we saw the insane finish to Battleground 2013 with the Big Show knocking out both Daniel Bryan and Randy Orton resulting in a no contest. While I moaned about the silliness of the ending it has me really excited to see what is going to happen on TV this week so without further ado, let's get stuck into Yes Relived.
The Life of Bryan
Raw 7/10/2013
Raw stars out with The Big Show today who everyone is pissed at, the crowd because he knocked out Bryan and Stephanie McMahon because he knocked out Orton. Big Show really needs some accountability lessons after trying to deny responsibility for something caught on camera. He does say he doesn't understand why Steph is so angry when she gave Brad Maddox the order to get him involved in the first place. Steph does some classic demeaning of Show, slaps him in the face and then fires him.
Well that just about guarantees that he will show up in the main event at the next PPV.
Next out we have the most pointless, powerless GM ever, Brad Maddox, who apologises for what happened but promises a result in the next Orton and Bryan match which will take place inside…… HELL IN A CELL. Maddox plays it like this announcement should be stunning but the crowd barely breaks into a basic clap, I guess having the next PPV called Hell in a Cell probably doesn't help with the surprise factor.
Maddox also says there will be a guest referee that is a Hall of Famer and the WWE Universe will vote for who it will be on the WWE App. Booker T is the first Hall of Famer out and promises he will call it down the line SUCKA. Well I don't know how calling the potential voters suckers will endear him but good for him.
At least he does better than Bob Backlund who is the second man out and gives the distinct impression of being the crazy uncle at Christmas, ranting about how he doesn't like using the word 'hell' but will instead call it Heck in a Cell. He finishes by screaming for everyone to, 'stand up straight when I'm speaking to you!' I wonder if the WWE thinks about how these catchphrases make any sense but I guess just like Hogan must pose, in the WWE catchphrase has gotta catchphrase.
Also is it just me or does it really feels like the WWE is stacking the deck with this referee vote?
FIRST DANIEL BRYAN SIGHTING TONIGHT!
After Randy Orton 'sends a message' with a dominant win over Kofi Kingston Bryan comes out of nowhere to attack him with a barrage of punches and kicks. Bryan tosses Orton over the ropes and follows to the outside, battering Orton behind the commentators table when a swarm of referees descend to break it up. Bryan tenaciously keeps going for Orton though and things break down into utter chaos as some of the road agents, David Finlay and Jamie Noble also get involved, trying to pull a relentless Bryan away.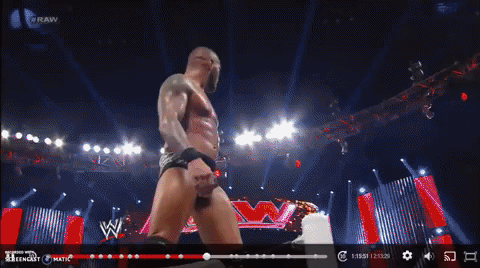 Orton eventually manages to get away, literally running up the ramp as Bryan chases him backstage to end a short but chaotic beatdown. Seems Bryan is keen to keep reminding Orton that in the ring he has had Orton's number for most of their feud.
After that things calm down, Shawn Michaels is revealed as the third option as ref. He says he will not let his friendship with Triple H, the fact he trained Bryan or his dislike of Randy Orton get in the way of him doing what is best for the crowd. Hmmmm, two guys Bryan has no history with or one of the most beloved WWE superstars ever, who also happens to have competing motives. I wonder who the WWE Universe will ever chose?
There is literally no suspense as less than half an hour later, to no one's surprise, HBK is announced as the guest referee. I know I've made a bit of fun of the process which was essentially a way to shill the WWE app but his involvement is pretty cool given his existing relationships with both Bryan and Triple H. However enough dwelling on that, it's time for tonight's main event:
Daniel Bryan, Cody Rhodes & Goldust v The Shield (6 man tag team match)
This looks very good, just last night at Battleground the Rhodes brothers managed to get a win over the current tag team champs, Seth Rollins and Roman Reigns, earning their jobs back in a really hot match and now they are facing off again here alongside Bryan.
Before we kick off hostilities tonight though, Triple H makes his way to the ring to 'observe'. I'm sure he will just stay seated right?
Rollins and Goldust start things off in the match with The Bizarre One taking the early offence. Things move towards Goldust's corner and he tags in Cody. Despite Rollins working across the ring and tagging in Dean Ambrose, Cody manages to stay on the front foot, hitting a nice running knee and suplex on Ambrose.
Cody alternates tags with Goldust but Ambrose manages to get back in the driver's seat. When the ref gives Ambrose a warning for some overzealous attack in the corner, Rollins yells out "hey, he's just doin' what he does best."
Things go from bad to worse for Cody when he goes up to the turnbuckle to try and turn things around with a Moonsault but is instead distracted and pushed to the outside. Rollins and Ambrose immediately zero in on the shoulder he landed on and start to put the youngest Rhodes into a world of pain, taunting him and playing dirty with their now helpless prey. However Ambrose pushes the mind games too far, taking too long talking trash and gouging Cody's face on the top turnbuckle and Rhodes is able to escape and finally hit the Moonsault!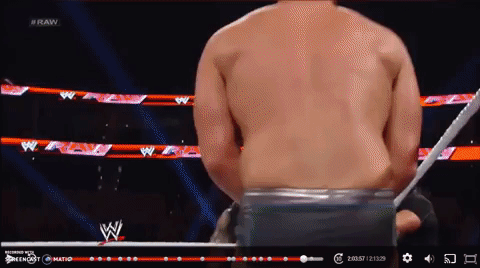 Both men are down and after a little more back and forth they manage to make the tags,Dean tagging Seth and Cody tagging in Bryan. Bryan immediately attacks Roman Reigns, who is standing on the apron and then makes a beeline for Seth. Bryan hits Seth with an awesome German Suplex that flips Seth head over heels and is rolling with dropkicks and a top rope hurricanrana.
Things start to break down as Bryan goes for the pin and Reigns dives in to break it up and Goldust immediately jumps on him. Ambrose also jumps in, tossing The Bizarre One over the ropes but Cody blindsides Reigns and clotheslines him to the outside, leaving Bryan with Seth in the ring, still the legal men.
After trading waist locks Bryan manages to flip out of an attempted German Suplex from Rollins, hits a solitary Yes Kick and then locks Rollins in the Yes Lock.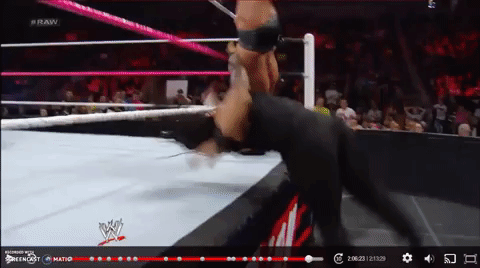 Unfortunately the bell is sounded before Rollins taps as Ambrose brings in a chair and hits Cody with it to end the match in a disqualification.
Winners: Daniel Bryan, Goldust & Cody Rhodes by DQ
The Shield get themselves out of the ring but as the announcer takes the mic Triple H, who has remained quiet at ringside until this point, interrupts and says this show isn't going to end with another indecisive finish and restarts the match but with no DQ.
The bell rings and we are back on. Each man grabs a dance partner and they all start swinging wildly; Ambrose, Reigns, Cody and Goldust on the outside with Bryan on the inside. The natural brawler in The Shield, Dean Ambrose gets the best of Cody and goes over to help Reigns double team Goldust. In the ring Bryan sees what is happening so launches himself through the ropes taking out all three men.
As Bryan follows up pumping himself up with a Yes chant, Randy Orton comes out of the crowd and catches Bryan with an RKO. Nice to hear no "OUTTA NOWHERE" screams from the commentary booth for once even though it probably fit that description.
Randy tosses Bryan back into the ring for Seth to cover and take the win for The Shield.
Winners: The Shield by pinfall
Rating: 3.25 YES's out of 5
That was some classic Shield six man action, working towards the groups strengths and leaving Bryan and Reigns completely out of it until the hot tag at the end. The No DQ stipulation at the end gave it a nice edge and the crowd really got into the chaos of it even if it was just for a few minutes.
Goldust and Cody attend to Bryan in the ring and the night is not over because as he exits Triple H gives The Shield a nod to attack again. Bryan is still out of it so the three men easily take down the two remaining combatants until BIG SHOW COMES OUT! He was fired so now has nothing left to lose. After Battleground's ending I am suffering a little PTSD seeing Big Show coming to the ring at the very end of a show again but because Triple H isn't happy I guess I can roll with it this time.
The COO of the company backs down the ramp, up into the ring and stands behind The Shield as the world's largest athlete makes his way to the ring. Show has fire in his eyes and makes quick work of the worn down Shield trio before confronting and knocking out the man that has tormented him.
As Big Show leaves the ring Bryan slides in, adjusts Triple H's tie and does something we haven't seen him truly do for a while, lets out a long hard laugh. The show ends with a huge Yes Chant and Bryan stands over a man that has made him jump through hoops for months now.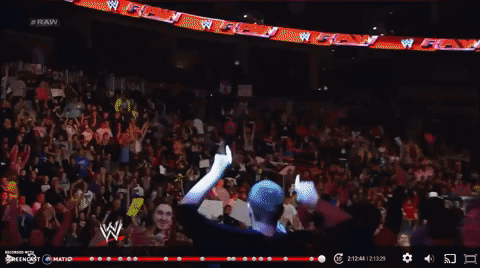 The Breakdown
With Bryan not appearing on Smackdown this week it is a bit of a shorter than normal week for the hero of the Yes Movement.
As part of this series I have read through Daniel Bryan's autobiography, YES: My Improbable Journey to the Main Event of WrestleMania, and it is interesting hear his reflections on this period of work where he was given the chance to act as the lead protagonist on the show.
Sadly the general take away from the chapter of the book that deals with this period is that while Bryan was excited to be given the chance to work at the top he ended up fairly disappointed with how things worked out. In regards to the matches he says the match with Cena was one of his best pieces of work ever but when it came to the matches with Orton:
"Randy Orton is one of the best guys I've been in the ring with, and we've had some great matches. Regrettably, none of them were during the three times we main-evented pay-per-views in late 2013."
Bryan reserves special criticism for the inconclusive endings of the Night of Champions and Battleground matches.
"All of that would have been fine had it been on a Raw on free TV, but to pay $50 and have a show end like that had a lot of fans giving up."
Combining this sentiment with the fact we know that PPV buys were down while John Cena was away in this period and it paints a bit more of a bleak picture of how things may have been backstage for Bryan during this time. It is interesting that in the book and in WWE lore they do not tend to focus on this time period for the YES Movement but more on the incredible build up to Wrestlemania 30 from the Royal Rumble onward and perhaps it is because the company doesn't quite remember this period as fondly as a lot of us fans.
Obviously these thoughts do not match mine, I can understand Bryan not being quite as happy with the PPV matches however the week in week out product that he has been involved in is absolutely stellar. From the first Steel Cage match with Wade Barrett to his ongoing excellence opposite The Shield Trio and even his TV match with the Big Show I think there is hidden gold left right and center on the TV product.
It will be interesting to revisit Bryan's thoughts on things as we continue on our own journey but it is certainly an interesting contrast to how I'm feeling going through this series.
That wraps up YES Relived for this week though. Let me know what you thought of the ending to Battleground and if your feelings towards this first part of the Yes Movement match mine or Daniel Bryan's in the comments below.
Thanks for checking out YES Relived, I'll be back next Saturday with the next chapter. If you would like to keep the conversation going you can reach me on Twitter @Sir_Samuel, let me know in the comments or have your say on the LOP Forums. It is a great place for in depth discussion and you will find an intelligent and engaged community.
A great place to start is the current series run by the Column Forum's very own bracket master Skullduggery. Along with seven other LOP vets is pitting 64 of the summer's best ever matches against each other in order to find out The Greatest Summer Slam Match of All Time.