When looking at the most important matches in professional wrestling history, many are mentioned. George Hackenschmidt vs. Frank Gotch, Buddy Rodgers vs. Bruno Sammartino, Ric Flair vs. Harley Race, Hulk Hogan vs. Andre the Giant. But what does not get mentioned is Joe Stecher vs. Ed Lewis. I have spent the last two column building up to this match, as this match changed everything. In one corner you have legitimate wrestler Joe Stecher, at 27 years old was the best wrestler in the world. In the other corner, you have the best showman in wrestling, 29 year old Ed Lewis. Both had a win over each other plus many ties.
In December of 1920 with both men in their absolute primes of their careers. They'd engage in a match that would change the whole wrestling business in the largest city in the United States, New York. Had Stecher won, the undisputed world title would be legitimate at least a few more years. But if Ed Lewis was able to pull the upset, then the undisputed world title would become the property of the Gold Dust Trio. Stecher had become the last line of defense between the world title, and "Slam Bang Western Style Wrestling."
Joe Stecher demonstrates his scissors move
I can honestly say I tried to find reports of the actual match between Lewis and Stecher. What I do know is that Lewis won the match at 1 hour and 42 minutes, and he did so after using seven headlocks which caused extreme damage to Stecher. Stecher legitimately injured his shoulder and arm. Here  There was no turning back now, the new wave of wrestling that had arrived and the undisputed title was in their hands. Wrestlers from across the world were coming to learn this new form of wrestling from "Toots" Mondt. Almost overnight, catch as catch can wrestling stopped existing. Instead we were treated the "Slam Bang Western Style Wrestling" that caught the world on fire.
The debate has always been when did wrestling become predetermined, and when did people start to suspect it was "fake." Some like David Shoemaker might argue even then people questioned if it was "real." I'd argue that the general public thought they were watching a legitimate product. What people did know was that the undisputed title was finally held by the wrestler that Frank Gotch himself endorsed. And that's all people needed to know.
Newspaper clipping of Ed Lewis defeating Joe Stecher for the World title
In an effort to extend his career, Stecher had reached a deal with the Gold Dust Trio during his time off from injury. For the Trio, working with Stecher could help them build other wrestlers. Though only 28, Stecher was now damage goods. So instead of making Stecher a star, they wanted him to get talent over. Enter Stanislaus Zbyszko, older brother of Wladek Zbyszko.
While Wladek continued to travel the world and make as much money as possible while he was still in his prime, older brother Stanislaus saw "Slam Bang Wrestler Style Wrestling" as an opportunity to extend his winding down career. After wrestling the feared undefeated Indian wrestler The Great Gama to a draw, Stanislaus had spent the decade of the 1910's being one of the most hated wrestlers in Europe. Stanislaus would legitimately get heat, as they would say today, in actual wrestling. The Trio thought he'd make a great villain for a hero to defeat.  
Five months after losing to Ed Lewis, Stecher would come back to wrestler Stanislaus Zbyszko. Stecher would put over the older wrestler, and Zbyszko was now ready to challenge Lewis. This led up to Stanislaus Zbyszko becoming the first ever wrestler to win the world title in a match with a predetermined outcome. (That we can confirm.) Wrestling will never turn back. I am not sure if this was part of the agreement with Stecher or not, but Ed Lewis put over Stecher in a match during the latter part of 1921. This would be the last time Stecher and Lewis worked together until 1928, as Stecher left to start his own promotion in the mid-west of the United States.
Ed Lewis applies his headlock to a title challenger in 1920
Zbyszko failed to draw people in to watch the matches, so the Trio put the belt back on Ed Lewis in early 1922. Once the title was on the Strangler, the "fake" question became irrelevant. One thing about Ed Lewis, he could draw. Even during the dark years of wrestling, Ed Lewis would bring in crowds. For three year Ed Lewis would defeat challenger after challenger, and people would buy into it. It was no secret that now Ed Lewis was entering his mid-30's, a time in which many wrestlers start to fade away and start wrestling in carnival shows. To those that were not "in" on the new wrestling secret, Lewis was defying all odds by dominating his sport the way that he was. His partners worried that it was time to pass the title to someone else, someone younger, someone who was actually popular with the fans. 
Enter Wayne Munn
In the quiet night, the sound still rings across the land. A sound so loud in Wichita, Kansas that almost 100 years later it's still heard faintly through the fields. It was a night people wouldn't forget. Ed Lewis came to one of the best wrestling cities to defend his title. As he stood in the corner his manager, Billy Sandow, yelled loudly "you're welcome" at the crowd. Lewis thought of a game plan for this big mountain of a man he was facing.
Then the music hits, Real American blast from the little record horn and the crowd erupts! From behind the curtain out comes Wayne "Big" Munn, at 6'6" and 230 pounds out of Colby, Kansas. Lewis covers his ears to drown out the sound. Munn takes off his University of Nebraska lettermen jacket (which is over his bathrobe), puts his hand to his ear only to hear a sound so loud it's a wonder he wasn't deaf. The music stops as both men enter the center of the ring, Lewis, at 5'10, 265 pounds, short and pudgy looking directly into the massive chest of "Big" Munn.
Wayne Munn with a bag
As both men circled each other, Lewis goes in for the attack allowing Munn to fall on him and pin Lewis one-two-three. The crowd was going nuts as their local hero took the first fall. Lewis slowly gets up, the crowd shouts obscenities heard in the the Attitude Era. The second fall begins, and both wrestlers move carefully. One false move could cost Lewis the title. Just then, Munn grabs Lewis out of nowhere, lifts him up above his head and sends Lewis to the floor. The crowd explodes as written reports say that you couldn't heard Lewis hit the ground because it was so loud. Sandow yells at the referee about the foul, which the ref agrees. Munn rips off his bathrobe and attacks the manager. But this does not change the fact that Lewis is now tied 1-1 with the younger Munn.
After 15 minutes, which Lewis used to recover and get ban-aids on his back, the two wrestlers once again entered the ring. Munn went on the attack and finished Lewis very quickly. The Convention Hall in Wichita shook with noise and excitement. Wayne Munn, the former football star who was the first to mix football tackles with wrestling, was now the world champion. Never mind that Munn was not a true wrestler, he was popular, and a huge name outside of the wrestling world and now wrestling has a hero. 
Ed Lewis and his version of the world title
The Gold Dust Trio began to put local promoters out of business with their style of wrestling across the country, and now they had a young charismatic champion who may not have been a great wrestler, but made people believe in him. I have no idea why this story sounds familiar? As wrestling became more theatre, it can be assumed you can make a hero to play the part. But you see the business as a truly worked sport was still brand new. There were holes in the great hero with limited wrestling ability theory. Especially when you have quite a few people going bankrupted due to your business practice. One of those people was Jack Curley.
Jack Curley was a former Gold Dust Trio partner who found himself on the outs with the Trio. Curley had tried to start his own promotion, but he needed legitimacy to draw people to his cards. After signing Ed Lewis's greatest rival, Joe Stecher, Curley waited to make his move. With Munn now holding the undisputed title, Stecher and Curley had an idea, an awful idea, a wonderful awful idea.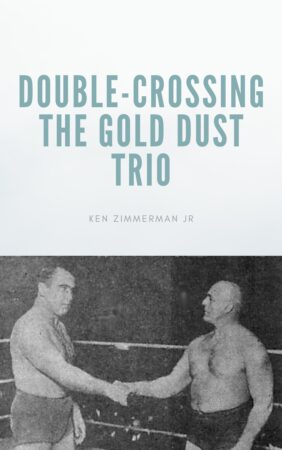 A whole book was written about this paragraph. I have yet to read this book, but here is a brief summary of the events here
Curley had signed a secret contract with Stanislaus Zbyszko before Zbyszko's match with Munn. You see, Zbyszko maybe 45 years old, but he was a real hooker. Munn may have been a great collegiate athlete, he was not a shooter. So once the bell rang Zbyszko attacked Munn, leaving him to waste in a manner of minutes. Munn was able to put up a fight, but within 20 minutes Zbyszko had swept the would-be hero, claimed the title. Curley's promotion now was in pose of the undisputed title. In Zbyszko's last act of his professional wrestling career, he laid down for Joe Stecher and now the Gold Dust Trio must find a way to once again claim the world title from the one person who could beat Ed Lewis.
Three years of dispute
One smart thing the Gold Dust Trio did was never giving Wayne Munn the actual belt. Sandow had used Munn's foul as an excuse to keep the "Diamond" belt in Ed Lewis's possession. In reality it was just an angle to promote a rematch down the line for the physical belt. Instead it saved Zbyszko from stealing the belt. The Trio set up a Munn/Lewis rematch right away. Claiming Lewis was still champion due to the foul, a rematch was justified.
Lewis won, and half the athletic commissions in the United States recognized Lewis as champion. Though the other half still saw Stecher as champion. For the next three years, the Gold Dust Trio's promotion ran head to head with the Curley, the Stecher brothers promotion for wrestling supremacy. Man, two promotions running head to head, one focusing more on real wrestlers and the other trying to dive more into the theatrics, I have no idea where I saw this before.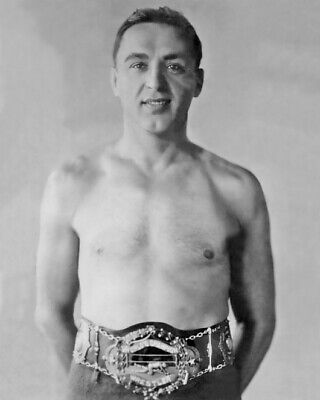 Joe Stecher with his version of the world title in 1926
Over the course of 3 years, both the Gold Dust Trio and Curley's groups started to dissolve from the inside. Money was being made hand over fist, and wrestling really needed to look to the future. Of course the titles stay in the possession of two older stars, Lewis and Stecher, who by 1928 were 36 and 34 years old. The gridlock between these two promotions had to end, so Lewis and Stecher had to come together and work out a match that was best for business. Lewis and Stecher had agreed to come together in order to settle the dispute once and for all. In front of a reported record breaking crowd for its time in St. Louis, Lewis and Stecher wrestled for over two hours which Ed Lewis win. Unlike their other 2-5 hour marathons, this match was a work. 
So in February 1928, Lewis was now seen as the undisputed champion. Order was restored to wrestling! Curley and the Stecher brothers, and the Gold Dust Trio of Billy Sandow, "Toots" Mondt, and Ed Lewis all agreed to work together with Lewis as champion. That was until Curley and "Toots" Mondt went to the New York athletic board and asked they recognize Hans Steinke as the world champion. Wait a minute… Curley working with a member of the Gold Dust Trio? What?